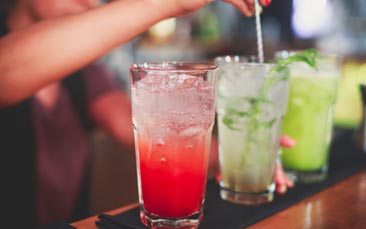 Having become totally transfixed by the likes of Dynamo (how does he do that?) we're now complete magic converts and can often be found at our own favourite magic bar, sipping cocktails, loving the tricks and laughing at the brilliant patter. Although no matter how often we ask the barmen, they still won't turn water into wine for us.
In this spellbinding session, a hilarious barman/magician will teach you two dark arts. Magic and cocktail mixing. During the magical parts of the evening, you'll learn how to perform three magic tricks. These are actually quite simple to perform once you know-how, meaning even a beginner can master them but have real 'wow-factor' for anyone not in the know. Great for impressing when that "Does anybody have any party tricks?" questions pop up at the next office party or BBQ. These are genuine feats of 'magic' (or 'prestidigitation' if you want today's word of the day) and could earn you serious 'cool auntie' points with younger relatives.
But perhaps even more impressive are the cocktails you'll be able to whip up at the drop of a cocktail shaker. You'll be learning three tasty classic cocktails:
Mojito
Cosmopolitan
Woo Woo
Most importantly you'll get to drink the cocktails. Now THAT'S magic!
Whipping up delicious cocktails, pulling off amazing tricks, you'll get to spend an evening sampling great drinks and with your new-found skills, what better way to spend your hen night in Bristol.