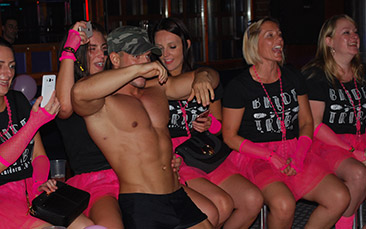 Ladies, do we have a treat for you! If you're looking for a sure-fire way to get all the girls smiling, drooling and LOL-ing, you really need look no further. The Magic Boys Show is a great way to crank up the fun on your fab trip to Benidorm. Kick back with a glass of bubbly as you watch some steaming hot hunks take to the stage and get their kit off. The perfect addition to any hen weekend in one of the planet's hottest party capital's… Come. To. Mamma!
The show begins with a stunning solo act as everyone is being seated, but you're going to want to make sure you get there slightly early so you can enjoy a free mini cocktail in the Champion Bar. Once everyone is in and ready, the heat gets turned up as the Magic Boys hit the stage. These tasty male strippers will perform a number of group and solo routines.
But that's not all, these gorgeous hunks of muscle will enter the audience picking girls at random and giving them their own personal performance. Lots of fun, loads of laughter and plenty of OMGing. If you want to guarantee the blushing bride-to-be gets chosen by one of these pec-tacular studs for the stripper's solo segment you can always upgrade to VIP tickets and tables so your group will be the centre of attention*.
All that laughing is certainly thirsty work. Luckily for you, the waiters will be on hand bringing you a free glass of cava and free shots over the course of the show. The party doesn't stop here though, ladies! At ten-thirty, when the show sadly comes to an end, the doors to their club burst open and the party carries on until the early hours of the morning.
You'll really pull the rabbit out of the hat with this one.
*Minimum 10 hens. Can potentially be made available for smaller groups on request.