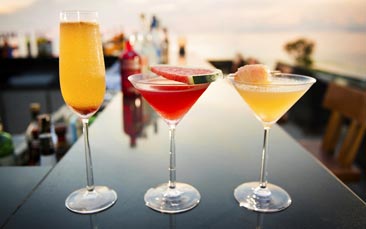 So you think you're a bit of a cocktail queen huh? Pretty sure you know your Manhattans from your Mules? A B52 from a Black Russian? Then it's time to put your taste buds to the test as you learn how to mix the perfect cocktail ("Woo woo!").
The session will begin with the friendly mixologist who'll give you a brief rundown of what goes into the perfect cocktail. It's then onto the specifics as you get shown how to make three classic drinks. Your expert will show you how each one is made and then you'll get hands-on, shaking what yo mama gave ya. Or at least shaking what the barmen has given you. Of course, it's only right that you'll need to taste as you shake to ensure you're getting just the right blend of flavours and booze. At the end of the session, you'll be able to drink your finished drinks. Bottoms up!
But it doesn't end there, having got your 'drink on' it's time to enjoy some sunshine munchies and when it comes to 'summertime eats' nothing fits better than a BBQ. It is literally the taste of summer and you'll have a whole selection of BBQ favourites to choose from including;
Burgers
Chicken skewers
Chips
Coleslaw
Onion rings
Ribs
Sausages
And yes, there's still more…
Because you'll also get two drinks to enjoy with your food.
No! We're still not done…
This is the hen weekend that just keeps on giving because you'll also get private use of a hot tub. Like the VIPs you are!