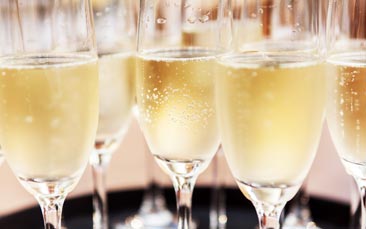 It was definitely some great thinker such as Confucius or Albert Einstein who said, "The only thing that's better than pudding, is two puddings."
Ergo the only thing better that's better than two puddings is two puddings plus prosecco and you don't need to be a genius to figure that out.
This fabulous hen treat is a wonderfully tasty addition to the bride-to-be's big weekend. You'll be served three delicious courses of puddings in your own private room or reserved area. Yes, you did read that correctly, this isn't just three mini puds crammed onto a teeny tiny plate, this is three courses of glorious desserts. And because "woman cannot live on pudding alone" you'll also have two glasses of prosecco each to act as a wonderful accompaniment.
And it just keeps getting better because calories don't count on holiday (allegedly) or is that just something we made up to make ourselves feel better apart from the great Cornetto and full-fat coke binge of July 2017?
The puddings available are seasonal and will differ depending on the time of year you're visiting but could include:
Chocolate truffles
Salted Carmel chocolates
Candied fruits
Macarons
Mini cheesecakes
Madeleines
Tarts
All that's missing is a hunky butler to serve them all to you. But at GoHen your wish is our command. Just add a Butler in the Buff.