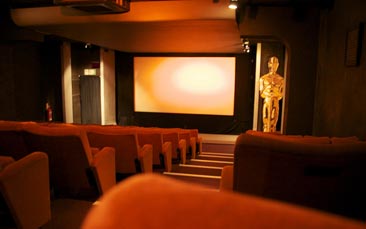 Is the bride-to-be a self-confessed movie addict? Or is there one film you're all addicted to? Well now thanks to GoHen you can enjoy your own private screening in an exclusive art-house cinema.
This fabulous cinema dates back to the 1930s with a gorgeous art-deco interior that harks back to the golden age of cinema and it's all yours for your own special viewing of the bride-to-be's all-time favourite movie*.
Sing-along with Grease
Dance in the aisles to Mamma Mia
Quote all your favourite lines to Notting Hill or Dirty Dancing
Or even hide behind your seats from the Blair Witch Project
Whatever your choice of movie we'll do our best to locate it so you can enjoy it on the big screen in comfort. Yep, no one rattling in popcorn boxes, nobody tutting behind you or hissing "Shhh!" as you discuss what you'd do with five minutes alone in a Winnebago with your favourite Hollywood hunk.
There are two auditoria; the first holds up to 171 guests, which is enough room for all the nearly-wed's guests and the entire cast of the Sound of Music! The screen also has a stage and balcony complete with luxurious comfy sofas for a real VIP feeling.
The second screen seats up to 72 guests and has a fully licensed bar so you can enjoy something bubbly straight after the movie.
All you need to do is start learning all the lyrics to Les Miserables... "I dreamed a dream in times gone by..."
* Movies subject to availability