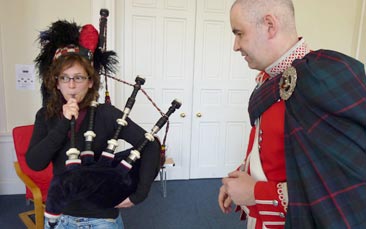 Yes, you are of course big enough and mature enough to know better… But this is a hen party! There's no way you're going to have the bride putting that pipe to her lips without the rest of the hens making the least appropriate comments ever!
It's exactly this kind of afternoon that makes hen weekends so fun. Where else would you possibly end up crying with laughter all because one of your friends is about to try and get a tune from a traditional and highly respected instrument, "Come on, Sarah, just put it in your mouth and give it a good long blow!". Ahem, yes, it's exactly that kind of an activity and that's why we love it!
The session will begin with your friendly instructor giving you a brief history of the pipes. You'll then all get a chance to put your hands all over his tartan octopus (see, we're not there and we still can't help ourselves!). If you're good, you'll be able to fill his bag up with air (we really are sorry about this, it's like some kind of bagpipe Tourettes). That's right, just put it to your lips, you don't have to open wide if you don't want to (oh for the love of…).
In between all the jokes, you'll learn how the pipes work and how to get a tune out of them. You'll also get your lips on the Scottish small pipe. At which point you might as well give up any semblance of maturity, but we bet you can't look the instructor in the eye while blowing it!
Brilliant fun, utterly hilarious and also surprisingly musical, you'll soon be managing to squeeze out a tune and the instructor will award a prize for the best piper of the day. Whatever you do, just make sure you get as much of the action/fun on video to all laugh over later. And yes, we do want to see all the photos of the girls in action.