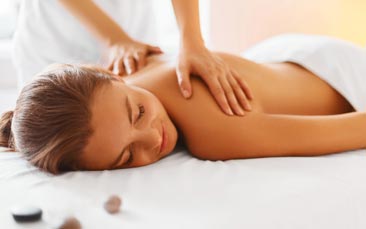 A slow, gentle, ambient back massage is a hen party classic. It's the perfect way to treat the bride-to-be, who's no doubt stressing out about her big day going off without a hitch, to some quality rest and relaxation that's sure to put a huge smile on her face. Plus all the hens can get rejuvenated during the big weekend. It could be just what you need after a big night out.

Not only will you feel ready to take on whatever you've got planned for the rest of your hen weekend after one of these super-chilled massages but you'll also experience all the benefits that come with this activity as the 'feel-good' chemicals that are massaged releases make their way around your body, energising you for the big night ahead.

Don't let your bride-to-be settle with stress on her hen weekend; give her the gift of a back massage and she's sure to thank you afterwards. Relieve yourselves of those stiff, tense shoulders as you're put in the safe, experienced hands of a masseuse who will cleanse you of any pre-wedding tension or any alcoholic aches and pains you've picked up the night before.

A back massage is the perfect inclusion for any hen party, it's the perfect way to break just for a bit from the usual action-packed goings-on of a hen weekend that'll leave you completely relaxed and feeling totally beautified. So why not take a little time for yourselves? Lie back, relax, and enjoy the pleasurable experience of an expert back massage...