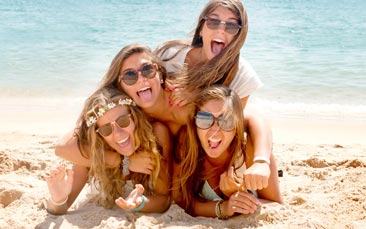 This is the sort of craziness hen weekends were invented for. Wonderfully different, all the hens can have some fun in the sun and laugh while getting deeply competitive. All set in a fabulous location where if the sun gets too much you can simply take a dip in the crystal-clear Mediterranean Sea.
What a way to work on those wedding photo tans, larking about on the beach. But having fun can be thirsty work so we'll even provide the drinks.
A friendly instructor will bring all the kit for your fun and games. He'll also be on hand to explain the rules and referee if needed. Need to top up your Instagram feed? He can also get some photos of all the hens in full 'team bride' mode. Of course, the bride being as competitive as she is, will just be focused on winning.
There are four Valencia hen party beach games to enjoy:
Beach Volleyball - You've seen it at the Olympics. Now you too can look smoking hot and gorgeously sun-kissed while playing volleyball.
Badminton - It's even better on the sand because if you fall over it doesn't hurt.
Rounders - A game all the girls can play in a giant match. Game faces on… Grrrr!
Water Pistols - Because sometimes you've got to fight fire with, erm... water (?!?).
To keep everyone perfectly rehydrated you'll get two ice-cold beers each. There'll also be a selection of soft drinks and snacks to refuel and refresh between games.
A totally different option for hens who like to be a little bit unique and more personal, the Valencia hen party games are ideal for when you don't want to take the weekend too seriously while making sure there's the right amount of fun to keep all the hens entertained while enjoying the amazing beach setting.