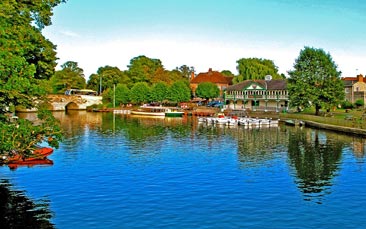 Stratford has often been described as one of the most picturesque places in the UK. It certainly has to be one of the most historic with some quite stunning scenery. Our hen party river cruise will see you take to the water on your own exclusive, you're free to bring your own drinks and pop a bottle of bubbly to toast the nearly-wed as you drift lazily along this wonderfully scenic and tranquil stretch of the River Avon.

You'll enjoy stunning and culturally and historically significant sites such as the Royal Shakespeare Theatre and Holy Trinity Church as the river winds its way towards Alveston on what is one of the most unspoilt stretches of river-way anywhere in the UK.

As well as bringing along your own cruise booze (we suggest a nice bottle of something cold and suitably fizzy to share) you can bring along a picnic to enjoy on the river.

The Edwardian style boats are crewed by experienced river pilots and with electric motors not only are they incredibly peaceful but also have zero emissions which is far kinder to the river's ecosystem which is teaming with wildlife.

We suggest private, exclusive hire of the boats for our hen's groups, however public cruises are also available with all GoHen's great bookings extras and superb customer service.

This is a wonderful way for the bride-to-be to get away from all the hassles of wedding planning, slowdown and take things easy as the river banks drift slowly by. It's also perfect for mixed age hen parties, allowing the whole group to enjoy the sunshine and catch up on the wedding plans. It can also be the perfect antidote to any heavy hen heads recovering from last night's partying. Our Stratford hen party cruises run from March to October and each cruise lasts approximately one hour.