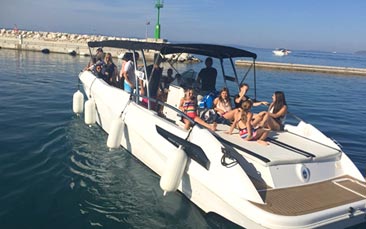 We've all seen those pictures of movie stars and pop divas chilling out on boats, what us, jealous much...? Well not anymore! You can now hire your own special party boat to relax and chill out over the stunning blue waters.
The boat can comfortably accommodate up to 15 hens and there's plenty of room to spread out, smaller groups can really make the most of all that room and work on those wedding tans. The English speaking skipper will welcome you all aboard and then you'll leave the harbour and ski, over the crystal clear waters. The boat will take regular stops so you can cool off by diving (or leaping/plummeting if you're not feeling sport). The boat will also stop off near beaches so you can head ashore to explore the coastline, grab a bite to eat or pick up some drinks.
You can also arrange for the skipper to supply cold drinks and water on board at an additional fee, please ask our team for details.
Plan ahead...
We'd recommend you think about the following.
Suntan cream and plenty of it. It feels cooler on the water but you can burn quickly.
Towels for relaxing on and drying off because that water gets very wet (?!?).
Waterproof cameras to get photos of all the girls in action.
A few snacks and bottles of water to keep everyone going.