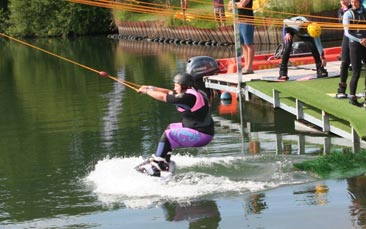 Looking for some water-based hen party fun? This superb site will transform you from extreme sport newbies to wakeboarding water-babies in an adrenaline-fuelled session that's also a great workout.

Wakeboarding is a fantastic sport, much like waterskiing but using a single board (think of an aquatic snowboard). You're towed across the water allowing you to skim the surface at increasing speeds. Each of the hens will have 1-to-1 training with an experienced wakeboarder before hooking up and hitting the water.

Rather than conventional wakeboarding which is done behind a speedboat, this park uses an overhead cable system which means there's no unpredictable surf or waves coming off the back of the boat so it's far easier to stay on the board. This allows each of the hens to really get the most from their experience. Of course, there's also the added bonus that you'll get to watch each hen out on the water, which at times can be absolutely hilarious!

For any hen parties that are looking to get away from the usual hen party activities and try something completely different, this is perfect. It's exciting, energetic and it really is a good workout (we worked muscles in places we didn't even know we had muscles!). The first drink of the evening will taste even sweeter after a day of fresh air, great exercise and hilarious fun.