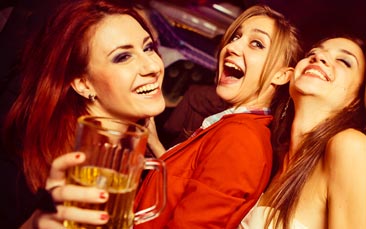 On the first night of your big weekend away, there's a dizzying variety of activities for you and the girls to get involved with as you try to get your hen do off to the perfect start.

This is truly a fantastic opportunity to catch up with the girls and get to know any hens who you've not had the pleasure of meeting before. Step aboard and head to the top deck to enjoy the quiet ambience of a sublime river cruise before this sleek and stylish boat transforms into a hen party palace!

The boats across our cities do vary but some have restaurants on board while others have meals and entertainment included. Please ask our team for more details and we'll help you find the perfect party cruise to suit you. This is an amazing way to see the city, enjoy some great food or a few cheeky drinks.

Our riverboat hen nights will see you and the girls have an unforgettable time on a cruiser that's a club, bar and restaurant all in one. Your entire evening is ready for you to enjoy, and there's still the added bonus of being able to see some truly stunning views from the top deck as well.

If that's not enough for you, there are even themed cruises available on selected dates, so you and the girls will have the chance to bring out your very best fancy dress!