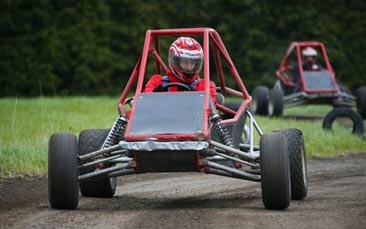 A hen party is a great opportunity to try something new and exciting. With our Reading Hen Party Activity Day, there really is a mountain of new, action-packed activities for you to challenge yourselves and each other.

Choose 1, 2 or 3 different activities and get ready for some hilarious, fast-paced competitive action:

Off-Road Rage Buggies
These bad boys are like the Tasmanian Devil of the motoring world, just about the most fun you can have with a crash helmet on.

Exploding Archery
Step aside Robin Hood, here come the girls. But this isn't just any old archery, hit the bullseye and you'll set off a fantastic pyrotechnic explosion. Edge of the seat excitement and incredibly competitive.

Hover Crafts
Brilliant fun to drive but incredibly difficult to steer, you'll race against the clock to see which hen records the best time.

Clay Pigeon Shooting
Your very own hen party big bang theory but who will be Top Gun?

Paintball
Unleash your inner G.I. Janes and play your own war games. Paint-splattering fun where you'll work in teams to take out your enemy one hen at a time.

Quad Biking
These four-wheeled bikes are amazing! You'll never want to drive a car again once you've ridden one of these funky bikes around the testing track. It's going to get muddy!

Laser Clay Pigeon Shooting
All the fun but none of the bruises of traditional clay pigeon shooting.

Axe Throwing
Get prepared for a zombie apocalypse by learning how to throw Native American style tomahawks. You just need to make sure you have some handy if ever the zombies' attack.

Blind 4x4 Driving
Backseat drivers! While the hen in the driving seat is blindfolded, it'll be down to her passengers to give instructions for her to get round the course in the quickest time possible.

Crossbow
Another test of nerve and shooting skill as you take aim with these deadly accurate crossbows.