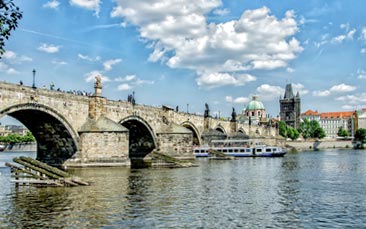 Add a fabulous and elegant cruise to your special weekend onboard a gorgeous steamboat. This wonderful evening trip really sums up the romance of Bohemia (yes, Prague is the centre of Bohemia) and includes a delicious dinner.
Places on the boat are limited so please book early.
You'll be welcomed aboard by the friendly crew and each of the hens will receive a glass of local Becherovka (38%, it's a Bohemian Rhapsody in a bottle, don't say we didn't warn you!).
In the summer months, you'll get a fabulous look at the city at twilight and in the winter months, you see the city and sights lit up. Sights you'll be passing include:
St. Agnes Convent
Prague Castle
Rudolfinum
Charles Bridge
The National Theatre
And more...
You can sit back, relax, watch the sights drift by or get some fantastic snaps for your Instagram account. There's a delicious hot and cold buffet dinner.
Typical dishes include (please note, this is a seasonal menu and subject to change):
Cold Platters
Ham, salami, sausage, pickles
Cheeses
Salads
Green salad
Chickpea salad
Cabbage salad
Pasta salad
Various dressings
Hot Dishes
Pork goulash
Grilled chicken legs
Chilli-beans with sausage
Cod ratatouille
Chicken schnitzel
Broccoli gratin
Tomato, olive and garlic penne
Vegetable couscous
Desserts
Homemade apple strudel
Gateaus
Fresh fruit