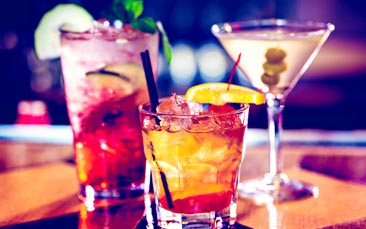 When partying in a new city it's all too easy to walk into the first bar you see. But this is a hen weekend. You simply don't have time to waste, drinking neon-pink pitchers of cocktails that taste like paint stripper in less-than-amazing bars. No, you deserve only the very best.
Our expert English-speaking guide will meet you and the girls at a pre-arranged location and you'll enjoy priority entry to three of the most popular cocktail bars in Prague. To get the night started in style you'll each receive a free long cocktail in the first bar.
But don't take too long. There's drinking to be done and these amazing alcoholic concoctions aren't going to sample themselves. It's on to the next one.
Bar number two now and you're getting a taste for the nightlife. Checking out those barmen ("Is it just me or does he look a bit like Tom Cruise?") shaking their stuff and really starting to appreciate the art of the cocktail. There's no going back to your average Sex on the Beach now.
Bar number three. The drinks are flowing and everyone's a bit giggly. You might be feeling a little bit squiffy, but the chances are there's dancing to be done later so we'll just call it "twerk fuel".
This is the perfect event for your first night in Prague and a great way to kick off a big night out in the Czech party capital. Visiting amazing bars, sampling delicious cocktails and eyeing up hunky barmen, it's just what hen parties were made for.
Cheers!