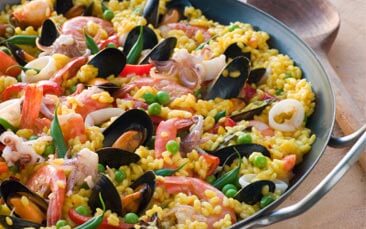 If you're looking for a dining experience that's going to show you and the girls the best of Spanish cuisine, you've found it. Our Madrid paella dinner offers you the chance to tuck into one of Spain's most traditional and most delicious dishes. Paella originated on the east coast of Spain, but quickly became a favourite nationwide.

There are three main types of paella, Valencian, Seafood and Mixed, all of which consist of rice and seasoning with various toppings. You'll be able to tuck into your choice of paella, with jugs of absolute gorgeous sangria to wash it down too. This is definitely a great way to immerse the girls in Spanish culture on your big weekend away. You'll be getting an authentic, unique meal that you've probably never tried before!

After all, the (undoubtedly empty) plates have been cleared away, you'll be served coffees and liqueurs to kick your evening off while you gossip with the girls and have plenty of giggles as you catch up on all the latest goings on. This is also a fantastic opportunity to appreciate the traditionally Spanish interiors of the restaurant which are frankly stunning.

Our Madrid paella dinner is a fantastic way to get any hen weekend in the Spanish capital underway or to provide a chilled-out crescendo to an unforgettable hen party. Either way, the bride-to-be will love having her nearest and dearest together for a lovely meal that really does showcase the best of Spanish cooking. Absolutamente fabuloso!