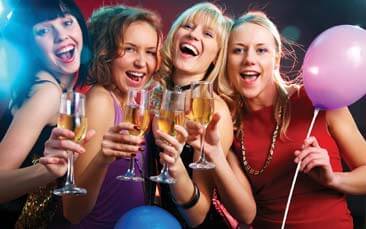 Live like celebrities for the night at one of the coolest rooftop bars in the world! On our Madrid penthouse terrace bar, you'll step into an ultra-chic venue with a stunning view of the city laid out right before you. This is where Madrid's bright young things and glitterati come to party, the waiters are smoking hot, the drinks are fresh and dazzling and the place is often frequented by Spanish celebrities.

Let's face it, if you're heading to Madrid, this isn't any old hen party, you are 'henoritas', ladies with style and class who know how to party and this is exactly the place to see and be seen. It will certainly make for a truly memorable night out and is the perfect place for the nearly-wed to celebrate with her closest female friends and relatives.

But don't get caught out, the Spanish don't tend to do 'early drinks' and the nights don't start until late but often continue until well after the cocktail barmen back in the UK have already hung up their aprons and are tucked up in bed with their recipe books. So dress to impress, arrive fashionably late and prepare for an uber-cool, stylish night out that only Madrid can give you.

This is truly one of Madrid's most exclusive venues where you'll be treated like royalty, the temperature is as hot as the barmen and you'll experience unforgettable views of the sparkling skyline.