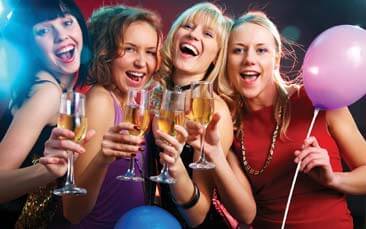 When in Rome... go Greek? With added plate smashing!

Gather the girls and take them for a fun-filled Greek fiesta night in Madrid! This fun-packed night is a great way to break the ice and get all the girls involved while eating some absolutely delicious food! Not only that but your friendly waiters will even be wearing togas! Your group will get to enjoy an array of authentic Greek dishes accompanied by wine and followed by dessert.

Heading out with all the girls can often be a touch trying, especially when trying to pick a restaurant. So many voices and tastes, so many options to choose from and keeping the girls together at times can be like herding kittens. One piece of feedback we hear from our hens is they wish they had pre-arranged the restaurant to save walking around trying to find somewhere on the night. That also could interfere with precious drinking or dancing time later in the evening.

All our restaurants are handpicked to meet our exacting standards, which means all you need to do it turn up, tuck in and enjoy!

You'll find a menu full of sumptuous Greek fayre, if you have a party of foodies with you, or simply girls who know what they like and are after top tucker then this really is a great way to keep everyone well fed.

There will be a demonstration of Sirtaki, a Greek traditional dance, and you'll also be invited to smash your plates for good luck afterwards!