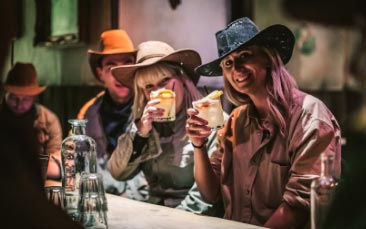 If you're looking for a night that is totally different to create amazing memories on your London hen party, then this is it.
The fun begins when your party are given cowboy hats to wear. You'll then head into the main bar of the Moonshine Saloon where a table will be waiting for you. Take your bottle of drink up to the bartender and he'll mix you up some personalised cocktails based on your booze and preferences. Once everyone has been served the fun begins with some of the saloon's crazier characters acting out a hilarious story that takes place around the tables with plenty of audience participation. Every night the story is slightly different depending on the crowd of onlookers.
If the bride-to-be is a fan of Westworld she will absolutely love it all: the authentic décor, costumes, crazy story and cowboy action. It really is like being in the wild west but with lots of added laughs. It's also so brilliantly different to your usual hen night out and there's not a fake veil or L-plate insight.
After the fun in the main saloon, the whole party moves into the General Store where all the evening's guests can get more drinks at the bar.
An evening of good friends, delicious cocktails, big laughs and crazy action, all with an added "Yeehaw!!"
* We recommend you bring 35cl per two guests to achieve four drinks each.