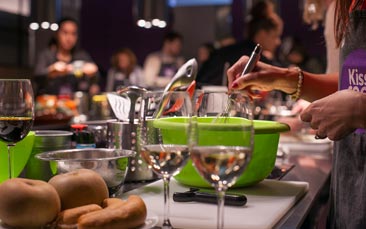 Food glorious food. We quite literally couldn't live without it, in fact we'll confess, here at GoHen HQ we're food obsessives and never more than 5 metres away from a packet of Chocolate Hobnobs at any time. But we know we're not alone, food parties have become a huge hit with hens over the last few years and now's your chance to get into the mix. If the bride-to-be and her hens are all self-confessed foodies then our hen party Portuguese cooking class is the perfect treat for the hen weekend.
You'll be greeted by our friendly chef who'll give you a briefing as you enjoy a glass of wine with typical Portuguese bread, cheese and olive oil. Its then time to get your cook on.
The chef will show you how it's done and then you'll recreate the starter using fresh local ingredients. You'll be able to see each other's progress and ask the chef for help/advice or ask about the ingredients.
On to the main course, once again you'll be shown how it's done before getting stuck in. Each hen will be making her own dish.
Having got stuck in it's time to tuck in. You'll all sit down to sample the fruits of your hen party Portuguese cooking class with a glass of port (a drink that originates in Portugal as the name suggests). Plus, you'll be served dessert and coffee. "Bom appetite".
Please note; Let our team know of any food allergies and the ingredients can be tailored accordingly.