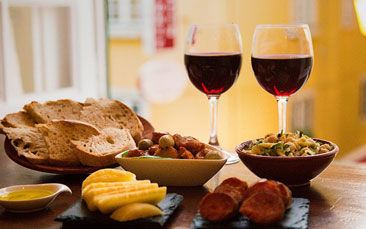 There are so many reasons to love Portugal and Lisbon in particular, but perhaps the nation and city's best-kept secret is the food. You probably know about Portugal's excellent wines, then, of course, there's port, sherry and Madeira, but now you can get first-hand knowledge of the best Portuguese eats.
You'll need a decent pair of shoes (now is not the time to break in that new pair of wedges) for this three-hour walk past amazing sights and even better food. Perfect for foodie hens and culinary brides-to-be this really is the taste of Portugal and the essence of Lisbon life. You'll head through a number of different districts, seeing the market culture and foodie habits of the city's inhabitants. You'll sample the best treats, each with a distinctly Portuguese drink.
Areas you'll visit include Baixa, Chiado and the party district of Bairro Alto. Along the way, you'll stop at a traditional tavern in Rossio Square where you'll try a firm national favourite and Portuguese Christmas staple codfish cake. This will be served with green wine, distinctly Portuguese and genuinely green in colour.
In Bairro Alto you'll sample tapas and white wine in a local wine bar.
Next stop is a green grocer's shop where you'll enjoy port with marmalade and cheese. You'll also get to sample the famous ginjinha (cherry wine) and fresh bread in a historical setting.
If all that wasn't fancy enough for you how about chorizo sausage and red wine at a 17th-century palace? Well if you're going to try fancy food you might as well do it somewhere fancy!
We can't guarantee the walking will burn off all the calories, but we can promise you fantastic flavours and a real insight into Lisbon's amazing food culture and maybe introduce you to a few new flavours to take home with you.