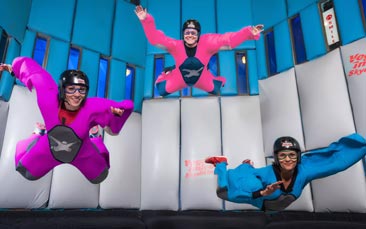 One of the most thrilling activities in Vegas, this is something really different for all the hens to enjoy. Free flight. That means no backpack, no parachute, nothing to get in your way, just you, physics and gravity as you fly up in the air and then experience what it's like to free-fall like a pro. You'll be like hen party superheroes… minus the capes… possibly plus hangovers.
The friendly instructors will give you a rundown of all the basics as you learn the moves and shapes so you can ascend, descend, twist and turn during your flight. This really is incredibly thrilling and you'll get to learn all the moves together making it even more fun.
Once it's time to fly, you'll enter the 120mph wind tunnel which has padded walls and floor (insert your own wedding planning jokes here) and a mahoosive engine that creates the high speeds required for you to take off. During the 3-minute flight, you'll soar in the air creating the feeling of freefall flight. It's a really exhilarating experience and surprisingly hard work, you'll certainly feel like you've worked out afterwards as you'll be using all kinds of different muscles.
Our best tip is to make sure you have your cameras at the ready to capture each other in mid-air. This is a great opportunity to do something totally different from the norm and unique during your big weekend in Vegas.
* Please check with our team for full height and weight restrictions.