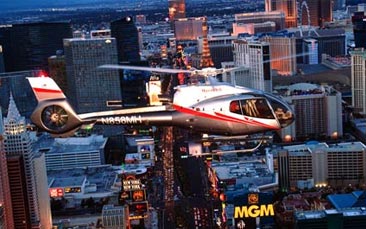 "The first rule of night flight club is that you do not talk about night flight club."
The Las Vegas lights are perhaps one of the most famous and exciting party views on the planet! And yes, they look pretty spectacular from the ground, but they look even better from the air, especially when seen from your own helicopter flight.
This once in a lifetime experience begins with your guide meeting you at your hotel, outside luxury transport awaits to take you to the helipad. Here you'll be given a rundown of your flight before heading into the waiting helicopter. It's then up, up and away as you get a unique view of the stunning lights as you fly over The Strip and world-famous Las Vegas sign, taking in sights such as the Bellagio Fountain, Marlboro Man, MGM Grand and so much more as you cruise over the show-biz capital of the world.
Once you touch down your guide will be waiting to greet you again and take you back to the party bus. Onboard you'll have a bar and bartender at your disposal plus some great party tunes.
But the fun doesn't end there…
It's then on to three of Vegas' hottest clubs that are regular haunts of Hollywood A-listers and music stars, with pre-paid, VIP entry to ensure every detail is taken care of and give the bride-to-be a truly unforgettable night.