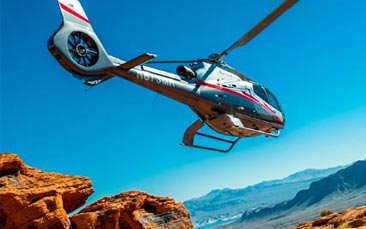 It's typically American to have one of the world's largest manmade sights sitting so close to one of nature's biggest and most spectacular creations. Nestled out in the Mojave Desert, the world-famous Grand Canyon is simply breath-taking. It's impossible not to be overawed by the majesty and grandeur of the Canyon which is certainly best viewed from the air to get a real sense of scale.
The Vegas hen Grand Canyon helicopter tour gives you a chance to see some of Nevada's most spectacular natural landmarks, culminating in an unforgettable flight over and then through the Canyon itself which is a staggering 277 miles long, 29 miles wide and a mile deep ("Does my bum look big in this?").
We'll arrange for you to be picked up from your hotel and taken to the heliport in a luxurious stretch limousine. Once strapped in to the helicopter you'll take to the skies and with typical Vegas panache enjoy narration, music and pilot commentary during the journey.
Sights you'll see include:
Mojave Desert
Lake Mead
Hoover Dam
Colorado River
Grand Canyon
But that's not all, you'll also touch down in the bottom of the Canyon giving you a chance to explore this protected national park on foot before returning back to the top to enjoy a delightful and refreshing Champagne lunch overlooking one of the world's most wonderful vistas.
After lunch, you'll strap back into your seats and back head to Vegas where you'll fly over the Las Vegas Strip passing the giant hotel resorts such as the skyline of New York-New York, Caesar's Palace and Stratosphere Tower, as well as the Luxor pyramid.
An unforgettable experience the hens will treasure forever.