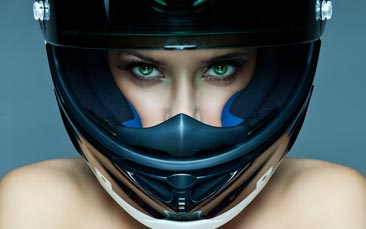 This is just about the most fun you can have on four wheels without seeing flashing blue lights in the rear-view mirror! You and your fellow hens will head to the top go kart track in Vegas and get a little bit sideways.
The aim of the game is speed and America is obsessed with it, so you'll be sitting in high-powered karts capable of 45 miles per hour. Doesn't sound that fast? You've done 70mph back home? Well just consider the fact that this is driving at 45mph, indoors! The track also delivers with all kinds of twists and turns to make the fun feel even faster and more frenetic. Car loving hens will be in their element as you go wheel to wheel to see who will take the chequered flag.
The session will begin with a safety briefing from the race marshals, then each hen will be given her racing helmet (hen selfie!). Once you've all learnt how to secure your 'skid lids', you'll be shown how the go kart controls work. With the marshals satisfied you're not about to drive headfirst into the first corner, you'll then hit the track for a few practise laps.
Eventually, it's time to line up and, as our American cousins would say, "Put the pedal to the metal!". You'll be racing your fellow hens to see who the Queen of Speed is and who should stick to taking the bus. Of course, it's going to get competitive, you know what the bride-to-be is like. The site also has somewhere to get a drink and talk about all the action after the race.