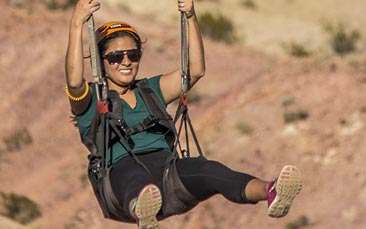 Everything is bigger over in the US of A, and this extreme skywire experience is no different. If you've ever seen a zip wire before, forget all about it! These guys have ripped up the rule book and turned the "Waaaaaghhhh!" factor up to eleven with a zip wire attached to a mountain, stretching over a canyon and down to the desert floor below. There is simply nothing else quite like this on the planet!

You and your fellow hens will soar through the skies of the Nevada desert at up to 60mph giving you a unique bird's eye view of the Las Vegas red rocks. This one certainly isn't for the faint-hearted and is a real test of nerves but delivers an adrenaline rush by the truckload! There are four wires sitting side by side so four of you can all take off at the same time and do the descent together.

But it's not just the ride, the views all the way are amazing, stretching out over the deserts and mountains, the is a really memorable day out with fantastic photo opportunities of the day you all tried something a little bit mad.

Even the journey out is amazing as you see the landscape and take a shuttle bus up a mountain to the starting point. In a city that is known for delivering amazing fun, GoHen believes this is one of the most incredible activities and is definitely one of our top recommendations for adventure-loving hens.