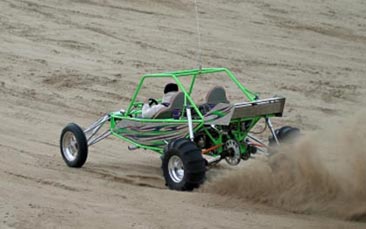 Roads? Boring! Anyone can drive on roads, this is Vegas! That means bigger crazy adventures, even when driving. So you'll leave the roads behind and head out into the Nevada desert to drive incredible, high-speed dune buggies. Rock music bible Rolling Stone magazine rated this as one of the best activities to do in Las Vegas.
If you've never stood in a desert before then this amazing activity is definitely worth booking purely for the sheer majesty of the landscape. The desert is truly awe-inspiring. It's also a great place to let off steam as well as any Monday to Friday road rage without a speeding policeman or speed camera to be seen for miles. In fact, there's nothing for miles.
Like a gangster caught with his hand in the till, you'll be picked up from your hotel and driven to the edge of the desert worrying about the fate that awaits you, but all you'll find is our friendly team of instructors and the awesome desert racing machines. You'll be given a helmet, goggles, shown the controls and given key tips on how to make the most of your drive without getting caught in the sand (although the super chunky tyres will help with that).
Mirror, signal, manoeuvre… I don't think so. See ya! You can leave all the usual boring rules of the road in your slipstream, this is all about having fun and enjoying a real driving treat. Perfect for petrol heads, daredevils or anyone who has ever sworn at a caravan towing Sunday driver (you know who you are ladies!). The funky high-powered buggies are open-topped, with a roll cage, engine and fat tyres, hence the need for goggles and helmets.
This is just sooooo much fun.