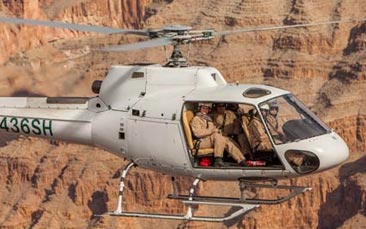 At GoHen we're lucky to have done some incredible sightseeing trips but few rival this amazing experience. If you want to add a few ticks to your bucket list then this is definitely the best way to do it. Plus there's amazing photo opportunities.
Luxury transport will pick you up from your hotel and take you into the Nevada Desert to the iconic Hoover Dam (which has featured in countless movies and TV shows). This massive feat of engineering stands a whopping 900ft above the Colorado River. You can walk over the damn and take photos before moving on to the 'whirlybird'.
Here you'll be given flight suits to wear and board the specially prepared helicopter. The doors have been removed so you can really feel the experience with no obstructed views allowing perfect clarity for photos. You'll fly just 300ft over the Grand Canyon, one of the seven wonders of the world and past the famous Joshua Tree (a desert Mecca for hippies as featured on the U2 album and thousands of art students posters). You'll also get to view an old abandoned copper mine dating back to the 1800s (it's so Scooby Doo!) and see a natural spring before dropping down 1,500ft into the Grand Canyon itself.
There are just so many chances to get incredible photos on this trip of a lifetime. Eventually you'll touch down and head for lunch, a 'World Famous Burger', fries and a soft drink.