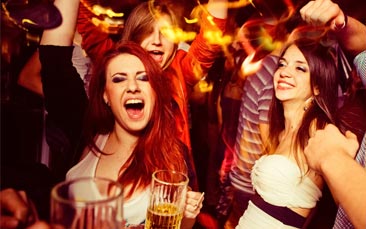 Don't waste time finding the wrong bars, enjoy free drinks in the right ones!
Our fantastic Hvar hen party bar crawl begins on a party boat around Hvar Bay. What could be a better way to kick off a great night, out on the water, feeling the sunshine, with your best friends and party tunes? You'll be joining a crowd of up to sixty party people on a giant bar crawl. More people, more drinks, more laughs, more music… More everything!
You'll be hitting several bars, enjoy several drinks. Yep, you can Woowoo or slam the night away. Well, we don't want you all getting dehydrated now do we? You'll have an hour's free bar to raise a few glasses to the bride-to-be. A local guide will lead the way ensuring you hit the best bars. You'll also enjoy a round of free shots at the second bar. Cheers!
And that isn't all!
To end the night on your Hvar hen party bar crawl we'll arrange entry for your entire party to Hvar's hottest nightclub. Yes, end the night in style and dance until sunset if you're in the mood (you can all catch up on sleep after the wedding if need be!).
This is exactly what hen weekends were invented for, sharing a memorable night with the best people, having a few drinks, dancing, singing and celebrating the bride-to-be's big weekend. It's certainly a long way from the cold, drizzly bar crawls people know back home.
Contact our team today to get your Hvar hen party bar crawl started.