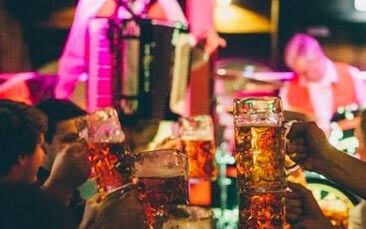 We all love a good sing-along but this really is something else! During this hilarious evening you'll be singing, swaying, clinking (HUGE!) glasses and generally having a Bavarian beer fest.
If you're looking for something totally different from the norm that is sure to get all the hens smiling then this is most definitely it. During our Edinburgh bierkeller hen party, you'll have everything taken care of and all your needs catered for. And you definitely won't go thirsty.
You'll be greeted on arrival and shown to your table. You will get the first round brought to you by your waitress. You'll each have a cold beer stain or half a pint cocktail to get you started. You'll also each be served a large bratwurst sausage, yep, you can expect plenty of hen party laughs because there's always one who just can't help herself.
Our Edinburgh bierkeller hen party is an absolute scream with all kinds of giggles to be had and plenty of noise to make. A DJ will play tunes from 8pm through to the wee small hours of the morning.
Sample Menu
Starters
Haggis croquettes
Barbecue chicken wings
Bruschetta
Main Courses
BBQ burger
Cajun chicken fries
Hot dog
Breaded camembert sandwich
Desserts
Mixed berry compote Eton mess
Trio of ice cream
Banana, toffee & walnut Eton mess