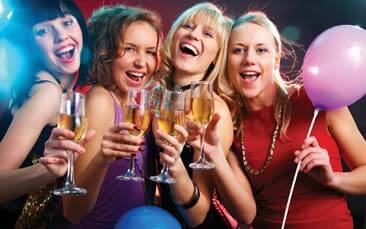 There is no doubt about it, Dublin is one of Europe's greatest party cities, in fact, it is even more than that, google "Best Party Cities in the World" and you can be pretty sure that the capital of the Emerald Isle will feature time and time again. The reason for this is simple... It's fantastic!
And with our Dublin hen party pub crawl pass you'll be able to enjoy drinks discounts and special offers throughout the evening.
Ok, let's just put on hold the fact that there are all those dreamy Irish accents to listen to (although it is another fantastic reason to head to Dublin), our Dublin hen party bar crawl passes will ensure you get special treatment all night. And we think that's the way it should be, this is the nearly-wed's big pre-wedding shindig and the weekend should be special. There should be shenanigans aplenty as you share some great laughs and raise a glass or two to help celebrate the forthcoming nuptials.
The wristbands are recognised and widely accepted throughout the city centre in some of the hottest bars in town. It includes unique offers for venues such as:
Fitzgeralds Bar
Buskers Bar
The Bankers
Trinity Bar
Bad Bobs
Alchemy Nightclub
You'll find all these and more in the legendary Templebar area of Ireland.

As well as the wristbands you'll also receive a free Dublin city map and a pub rule game.