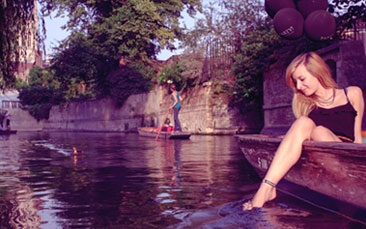 There is just something so utterly relaxing about drifting lazily along the beautiful River Cam that makes punting the perfect addition to a Cambridge hen weekend. It's a great tonic for the bride-to-be after weeks of stressful wedding planning and it's certainly a great way to cure any fragile heads from the previous night's cocktail excesses!
During your hour-long session, your designated punt guide/chauffeur will take you on a tour of this charming city. For those of you not entirely sure what a 'punt' is, it's a flat-bottomed boat which you propel by pushing a long pole against the riverbed. It's brilliant fun and a great way to add a touch of elegance to your afternoon.
You'll get the chance to take in the beautiful sights and discover some of Cambridge's more colourful characters. Or, if you prefer, you can skip the talk and just use the trip as a great chance to catch up with all the girls' news in a truly captivating setting.
There are two different routes available: the College Backs and Grantchester. The Backs route is more of a sightseeing affair, with highlights including King's College Chapel, the Wren Library and the Bridge of Sighs. The trip to the rural idyll of Grantchester is more tranquil, winding through woods and meadows, but it depends on what floats ya boat (so to speak).
Each punting boat has a capacity of up to twelve hens and comes equipped with warm blankets and umbrellas to protect you from all weather types. This really is the perfect chance to relax and enjoy a slower pace of life with great friends and fantastic scenery during this most timeless of pastimes.
If you fancy something a little bit extra on your Cambridge hen party, why not try fabulous variations on the norm such as Cocktail Punting, Champagne Punting or our Treasure Hunt Punt? You can even treat yourself to an Afternoon Tea once you've reached dry land! Please speak to a member of our team for more details.