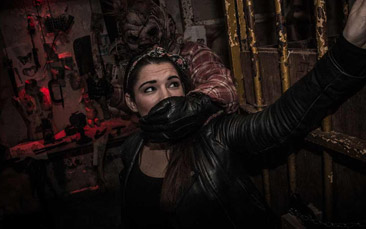 Our Bristol hen party horror escape game is, without doubt, the scariest activity we offer. This really is spooky stuff and definitely not for the fainthearted. But if you like the odd horror flick, love occasional chills and thrills then hold on tight and come with us... Maybe some of you will make it back alive!?!
This is a live-action, escape game experience which takes place in Bristol's old crown court prison cells. Parts of the cells date back to 1867 and have held some heinous criminals but don't expect any special treatment just because your friend is getting married, we know some of you have committed crimes against fashion and this could be where you pay.
PLEASE NOTE; This activity is not suitable for those of a nervous disposition or known heart condition.
The game will begin once you have all been locked into a cell, you then have just 60 minutes to escape. You'll have to work together and remain calm under pressure to solve all the clues and make your escape. Of course, there will be a few twists and turns along the way and you'll definitely be pleased you're sharing hotel rooms when you finally make it to bed.
This is all about those things that go bump in the night and facing those fears… no matter how much you want to flee in terror. So, if you're ready for some serious scares on your Bristol hen party, then right this way...