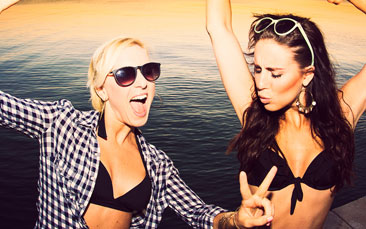 Bristol is a city with a huge seafaring history and a massive party lifestyle ("Tharrr be pirates!", the famous pirate Edward Teach aka Blackbeard came from Bristol), so it was only a matter of time before they were going to collide and the result is a fantastic party night which is the perfect way to kick off any big hen night in Bristol.

Our Bristol hen party booze cruise will sea you (sea what we did there?) and the girls sailing through Bristol harbour singing along to party tunes and enjoying full use of the cash bar on board. You can even bring your own tunes!

However, the party isn't restricted for when you're on deck. The boat will stop off twice on the journey for you and the girls to head off to shore and take advantage of a bar there, before heading back to the boat to set sail again. While onboard you can also take photos of all the girls partying together, before Instagramming the best pics for everyone back home to see.

Bristol is a city that knows how to party, and yes, it has amazing bars and clubs, but if you want to be a little bit different, if you want to create some fabulous hen memories then a Bristol booze cruise is the ideal choice.

Booze cruises are an incredible, memorable start to the night, seeing some of Bristol's most beautiful areas whilst still getting the party well and truly underway. The boat will drop you off right in the centre of town too, so there's plenty of opportunities to keep the party going once you're back on dry land. Or we'll be happy to line up Guest List Nightclub Entry to one of the city's hottest venues.