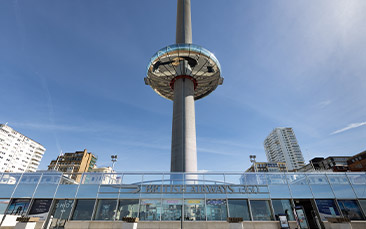 It's one of the most spectacular views to be found anywhere on the South Coast. The incredible i360 was conceived and designed by Marks Barfield Architects, the creative team behind the London Eye.
Raising majestically above the Brighton and Hove skyline, the tower stands 162 metres tall. The passenger viewing pod reaches a height of 132 metres and offers 360-degree views of the Sussex coastline. You'll be welcomed by the friendly check-in staff (the tower is sponsored by British Airways so everything has a slight airport theme to it). You'll then wait in the 'departure lounge' for your 'flight' (told you!) where you can get a drink from the bar. You'll start your ascent.
Incredibly the column itself is just 4.6 metres wide and you're free to walk around the futuristic glass viewing pod where you can see the whole of Brighton and Hove, the rolling South Downs and on clear days you can even see Beachy Head and the Isle of Wight, 49 miles away. You can also see clear along the beach and out of the English Channel. The views are quite breath-taking so make sure you have your cameras ready.
Brighton really is a fantastic city to see, packed full of attractions such as the Brighton Pavilion, Laines, Old Steine, it's no wonder so many celebs have made Brighton and Hove their home ("Look, you can see Adele's house from here!").
Each flight lasts around 25 minutes (including boarding and disembarking) but please allow a little more time for check-in. The platform is wheelchair friendly and as well as a bar there's also a gift shop and exhibition. Hungry hens can visit the restaurant or have a spot of afternoon tea.
You can even add a delicious lunch on the beach. Please ask our team for more details.