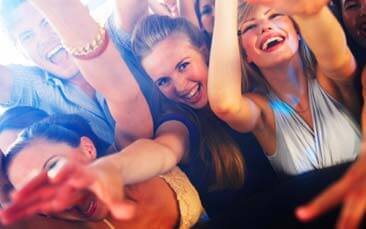 Some nights out are 'pleasant'. Others are 'fun'. Then there are those 'OMG do you remember when...' Nights. This is definitely one of those nights.
You'll step aboard the party cruise and be welcomed by the party crew (yep, it's all about the 'party'!) and each hen will enjoy a free drink. As soon as you set sail the tunes begin with a live DJ to get that dancing mood underway. Yes you can dance on the dancefloor, yes you can dance under the stars, you can even dance with the captain if he passes by.
From 8pm - 10pm a tasty BBQ will be served to keep the hens hale and hearty. The crew will also help keep the evening flying with some hilarious party games and games shows which you can choose to join in with or just watch.

The boat will have other groups on board so there will be plenty of like-minded, fun-loving folk willing to party with you all. But there's also enough space that you can keep your group together and focused on the bride-to-be if you'd like. And with a great night out like this fancy dress isn't a problem, in fact, it's welcomed like Long John Silver love pieces of eight.
The bad news... Eventually, the boat does have to return to dry land. The good news... Once there, the crew will take you to a top nightclub where you'll have free entry and will be back on the dancefloor quicker than you can say "Jedward megamix!".
So get set and get booking a night like no other of the gorgeous Bournemouth coast.