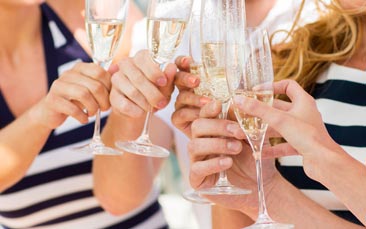 It's simply not a real hen weekend until someone has popped the cork out of a bottle of something suitably fizzy. It's the only way to toast the nearly-wed on her special weekend. But it doesn't have to be expensive. If you want a hen weekend that is full of fabulous memories but won't cost all the hens an arm and a leg, then this is the perfect addition to your Bath weekend.
On arrival, you'll be shown to your own reserved area, once all the hens are comfortable the good times will roll, and the drinks will flow. You'll have two hours of unlimited prosecco. And if that isn't exciting enough then you can get busy with your fizzy and give it a hen weekend makeover. A selection of syrups, fruit and garnishes will be supplied so you can give your drinks a taste twist and create your own fabulous prosecco cocktails.
You'll also have a delicious selection of snacks.
Snack menu
Sticky BBQ pork ribs with puffed crackling
Hummus with pomegranate, walnuts and flatbread
Crispy salt & pepper squid with red pepper and lime leaf sauce
Sweetcorn, chilli and spring onion fritters with avocado dip
Thyme roasted potatoes with spicy tomato sauce & parmesan cheese
Lovely Bubbly
Prosecco Facts - Strange But true
Prosecco has become so popular that in 2016 the UK actually suffered a prosecco shortage. Don't panic, it's all sorted now and there's enough to go around.
Prosecco has fewer calories than wine. A glass of red wine typically has 125 calories while a glass of sparkling wine usually has just 90 calories. So it's virtually a diet drink (although it probably isn't).
Prosecco and champagne are both sparkling wine, the only difference is champagne originates from the Champagne region of France.
Flying corks can reach up to 25mhp when they leave the bottle. "Look out!"