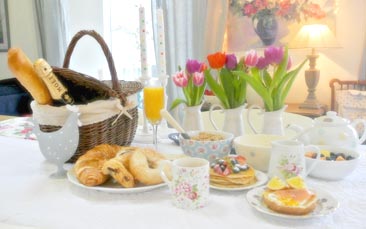 After a big night out, one thing that's sure to get all the hens feeling perky again is a sizzling brunch. We'll arrange for your own private chef to come to your accommodation and prepare a wonderful pick-me-up brunch as well as dressing the table beautifully with our special prop box including; fresh flowers, table cloths, crockery and table wear, to make the meal a real occasion. You can break bread and chat about the weekend's events or the nearly-wed's plans for her big day.
There'll be a range of standard breakfast fayre as well as one pre-selected hot option to suit your entire party.
Breakfast Brunch
Granola
Yoghurt
Fresh fruit
Selection of pastries
Pancakes with maple syrup and blueberries
Fresh coffee and tea
Juices
Hot Options
Eggs Benedict/Florentine/Royale
Full English
Scrambled Egg with smoked salmon
It's the perfect way to set the girls up for the day ahead as well as a good way to help revitalise any tender heads after a big night out. Delicious, wholesome breakfasts, lovingly created by your own private chef. The dining experience and table decor will all help add some extra glamour to your weekend and the celeb lifestyle the bride-to-be deserves. And it will be fun to tell all the hens that you've lined up a private chef to come to your self-catering accommodation... You can leave the discussions over whose doing the washing up until later.
Dietary Requirements
As well as vegetarian options other dietary requirements can be catered for including halal diets, gluten-free, nut allergies and more. Please contact our team for more details.