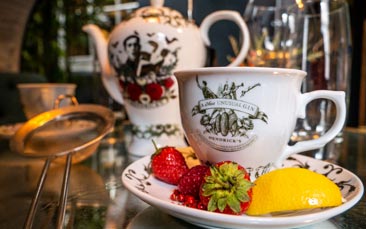 In recent times gin has seen a real resurgence, and veritable temples to this wonderful drink have been springing up in trendy party cities like Paris, Manchester, London and Bath like nobody's business. It's actually quite hard to believe that old "mother's ruin" was once off-trend as it's now a crucial element of any respectable cocktail bar, and in this amazing venue in central Bath, you will learn everything you need to know to become a lady of fashion with a knowledgeable and sophisticated gin palate.

On arrival, you'll meet our wonderfully friendly team as well as your experienced expert who'll be taking you on a journey through a collection of the world's tastiest and most exotic gins. Then it'll be time to prick up your ears as you'll be learning all about the different flavours and 'botanicals' found in the different variants before you get the chance to try a fair few of them yourselves!

Once you're all clued up on what a real gin should taste like, "oh, I'm still not sure I'm sure, do you mind if I have another glass?" then it'll be time to get hands-on with a few key ingredients so that you can infuse your very own special brew.

The alco-frolics don't end there though, as then you'll have to split into teams for a totally hilarious hen versus hen tasting game where you'll have to catch the girls out as you race to guess which gin is which! And just imagine the bride-to-be's face when she learns that her favourite G&T has been condensed into one delicious cupcake?!?

Our Bath hen party high tea gin tasting is fabulous fun that'll go down well with all the girls, if they weren't fans of "ladies delight" before, they will be after this. "What's the time? Ah yes, that's right, I make it just about gin o'clock..."