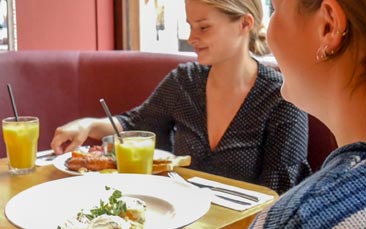 Breakfast? Bleugh! Too early. Who can face eating when they can still taste toothpaste? Especially after a big night out. No, sorry breakfast but you're definitely not the healthiest meal of our day, in fact, we're fairly sure getting up just to have you might actually be bad for our health when we could still be lying cosy in our beds.
We've seen the future and the future is 'Brunch'!
It's the perfect meeting bringing all the healthy, good intentions of breakfast and combining it with a more civilised hour nearer lunch. And it's delicious. In fact, this could be exactly what all the hens need after a big night out.
And this fantastic brunch takes place in one of our favourite Bath eateries. GoHen are based in Bath (pop in, the kettle's always on) and have personally undertaken the task of sampling this brunch to ensure it reached the very high standards and taste, crunch and 'Mmmmm' tests to ensure it was good enough for you. You're welcome.
Menu
Cold-pressed orange juice
Hot drink a selection of teas or coffees
Choice of:
Eggs Royale Two poached eggs, toasted muffin, smoked salmon and hollandaise sauce
Eggs Florentine Two poached eggs, toasted muffin, buttered baby spinach and hollandaise sauce
Pancakes - With Greek yoghurt, berries and maple syrup
Glass of prosecco to finish and toast the bride-to-be. Bottoms up!