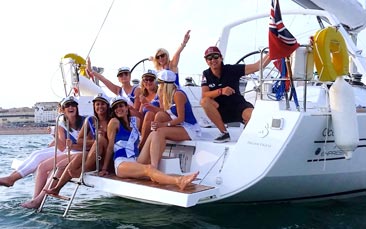 Say "Hola marineros!" and set sail along one of the most stunning stretches of the Mediterranean.

This fantastic, sun-kissed charter is the ultimate way to relax and unwind during the Barcelona belles' weekend of pre-wedding celebrations. It's most definitely the perfect antidote for the nearly-wed to combat weeks of often quite stressful wedding planning and will most definitely be a welcome tonic for all the hens.

You'll set sail along the Spanish coastline for the ultimate in relaxation and sun-soaking and feel like a celebrity on your Barcelona hen weekend! Drifting over the beautiful crystal clear waters of the Mediterranean on your own private yacht, with drinks on board you can sit and soak up the rays or pop in for a swim (but make sure the yacht has stopped before you go hen overboard). You'll have your own friendly captain to skipper the boat and look after you. And if you fancy dropping anchor then you can moor up, enjoy the view and make the most of the crystal clear Mediterranean waters.

It's the perfect place to cool off after the heat of the city, as the sea breeze cools you down (but make sure you add extra factor as it can be really deceiving and the red-skinned lobster look is so last year).