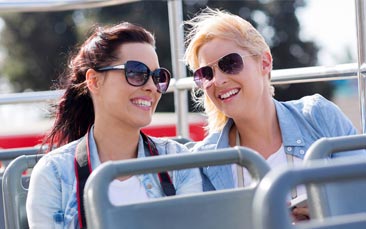 If you've opted to come to Barcelona for your big weekend, we definitely don't blame you. This Catalan city is as gorgeous as any city you can see in Europe and it often wows with its amazing sights. But it can be hard figuring out what's what and where to go on your hen weekend with so much going on at once.

That's why we believe that our Barcelona hen party bus tour is a must for any hen party visiting Barcelona. It's a great way of getting all the girls together to relax and learn a little more about the rich history of this amazing city. From the top of this double decker bus, you'll be able to see some striking views as well as being in a perfect position to scout out those all-important shopping areas as well as finding out where all the best nightlife is once that scorching Mediterranean sun goes down.

You and the girls will also get to see a couple of Barcelona's most iconic sights, the mahoosive Sagrada Familia for one and of other fantastic destinations within the Spanish party capital. And as the bus is opened topped you can also keep working on those pre-wedding tans.

This is the perfect way to get to know Barcelona if it's your first time visiting, or if you're returning to this gorgeous city it's a great way to get a fresh spin on more familiar surroundings. Our Barcelona bus tour will give you and the girls plenty of chances to laugh and it's perfect for a first day of the weekend to get your hen party off to a flying start, so you can eye up your first bar from the top of this huge double decker.