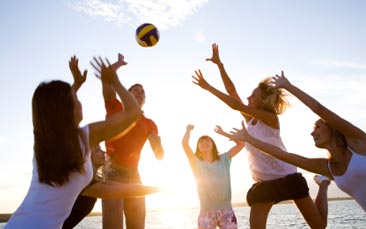 What could be better after a night of dancing than a day on the beach? But if you're not too keen to simply lie in the sun all day, our Barcelona hen party beach games are a great way to get the girls giggling and enjoy a little competitive fun.

Get ready for some fun in the sun as you take each other on in hilarious, energising hen on hen action in friendly competition as you beach-battle to show you are indeed the Queens of the Beach. And of course, you can keep working on those pre-wedding tans, ready for the photos on the big day. Our hen party games are also a great way to get the bride's mind off the stresses of wedding planning for a while.

Once you're all down on the sands your guide will give you a rundown of the activities on offer before co-ordinating your session of fun, crowd-pleasing games that'll make that hangover a distant memory and give you a chance to soak up some rays at the same time as getting a healthy dose of fresh sea air.

In your group-tailored activity, take each other on in a classic game of beach volleyball or play 'spot the hunk' on the beach while getting involved in a game of twister on the sand. Barcelona beach games are a whole lot of fun and your hen party will be laughing in no time with the bride-to-be smiling ear to ear.

There'll be ice-cold refreshments available too, so you'll never get too hot during your session!