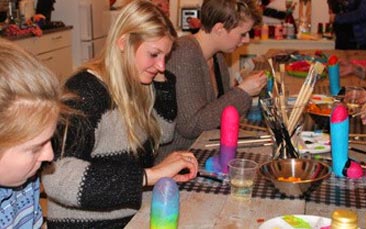 Have you ever looked at a penis and thought, "Well, it's nice, but it could probably do with a few sequins…"?
Ok, probably not. But now you can! Let's face it, the male 'member' isn't about to win any beauty contests. Sorry boys but those things ain't pretty. And they're certainly not about to win any design awards so it's about time they were given a makeover.
But all that could be about to change…
This hilarious art workshop is perfect for hens who want to share lots of laughs and point-blank refuse to take things seriously. You're about to put to rights what is perhaps one of the worst design cock-ups (if you'll pardon the pun) of all time. After all girls like pretty things so we were never going to be wowed by something that looks like it was leftover from a 'make an alien for Star Wars' competition.
No, it needs improving, it's time to pimp that penis.
A friendly art instructor will give the whole group penises (is the plural peni?). These are plaster models, not the real thing (sorry). You'll also be shown a fabulous array of sequins, paints, sparkles, feathers and all manner of shimmery fuss 'pep it up a bit' while spending two hours cracking up at all the inappropriate comments and penis jokes. Yes, this is definitely time well spent. At the end of the session, you even get to take your penises home with you.
And to get you started, here are a few design ideas for you:
Silly Willy
Tinsel Todger
Dancing Dickie
Fancy Pants
Glow in the Dark
Small IS Beautiful
Pocket Rocket