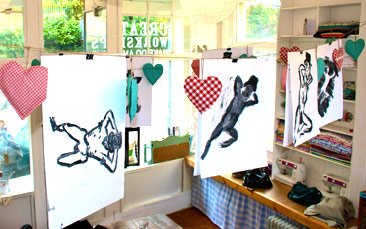 a slightly naughty but tasteful session
professional nude male model
expert tuition
all drawing equipment
ABTA bonded financial protection
VIP group area
easy group management
300k+
clients who've booked with us
ABTA bonded
don't book without it!
Life drawing Intro
"Life Drawing?! Isn't that just a rude art class?" we hear you say. Well, technically you wouldn't be wrong but combined with our qualified artists, professional male models and a slightly naughty but tasteful session, this activity is certainly one to put on the wish list. As long as you all have a good sense of humour and a willingness to have a go at drawing, then this will be the perfect activity for you. During the session you will receive plenty of encouragement and helpful hints and tips on how to perfect your drawing abilities. You and the girls will learn the secrets of life drawing and practice your new found skills by sketching your very own professional nude male model. This session is a great way to spend the afternoon together, trying something a little unusual, and giving you plenty to talk about when you head out in the evening.
GoHen were brilliant!
The activities were great and all the hens had an amazing time.
Very impressed! Thanks GoHen would definitely use you again.
Jillian Wallis -
Format
On arrival you will be introduced to your artist, who will guide you through the entire session and of course, the male model. Once he's in position and um, arranged himself, the artist will demonstrate and give helpful tips on how to get a perfect likeness of the gentleman in question. As this is an art class you will be using charcoal and sketch pads so there's no Photoshop here, you'll have one chance to create your masterpiece so why not make it into a competition and have a prize for the best (and worst) representation of the fella? You could even get him to judge but we don't want to make him blush!
where available
Bath, Birmingham, Bournemouth, Brighton, Bristol, Cambridge, Cardiff, Cheltenham, Chester, Edinburgh, Exeter, Glasgow, Harrogate, Leeds, Liverpool, London, Maidstone, Manchester, Newcastle, Newquay, Norwich, Nottingham, Oxford, Portsmouth, Reading, Sheffield, Southampton, Stratford-upon-avon, Torquay, Woolacombe, York, Barcelona
The life drawing activity was fantastic! I could not fault the service and the people. We had a great time. I would recommend this activity to any hens.

Melanie Horrigan
More details
what's included: Included in the price is venue hire, the artist, sketch pads and charcoal and of course, the model!
duration: The activity takes approximately 1 hour.
availability: We can arrange a life drawing class 7 days a week.
group size: There is a minimum of 10 girls per session.
comment: This may not be the obvious choice for you and the girls but it's an activity that everyone, young and old can get involved with especially if the bride-to-be has always had artistic aspirations. The sessions are always tasteful but a bit cheeky and we can guarantee a good time will be had by all. Whether you want the session to take place in a central location, close to the cities liveliest of areas or in a venue of your choice, the artists will travel to keep your needs as a top priority for maximum hen fun!
You may also like...
VIP group area
easy group management
300k+
clients who've booked with us
ABTA bonded
don't book without it!
Simply fill out the form below to check availability & price. You'll then have access to your own VIP client area where individual payments, sending the group invites & viewing your full weekend itinerary is easy!