What's Included
Professional nude male
Fun artistic experience
Unique hen activity
Experienced tuition
What you'll be doing
Meet your experienced tutor who'll guide your session.
Then it's 'eyes front' to meet your professional male model.
Once he's 'arranged himself' you'll get some top tips.
Try to create the perfect likeness of your 'subject'.
Find out who can 'represent' the model the best!
All necessary art materials provided - no Photoshop here!
In some cases, your model will double as a tutor as well
Hen Top Tip
If this doesn't seem cheeky enough for you, definitely give our lingerie making class a try for some guaranteed giggles. Read more...
VIP group area
individual payments
400,000+
clients who've booked with us
ABTA bonded
don't book without it!
Key Details
Duration
1 hour.
Group Size
Minimum of 10 hens.
Availability
7 days a week.
Equipment
Canvas, drawing equipment.
Seasonal
All year round.
Dress Code
Casual, comfortable clothes.
"...The life drawing class was fabulous! Once we all got over the embarrassment of what we had to draw it was so much fun! Definitely do it again!..."
Jennifer Tapp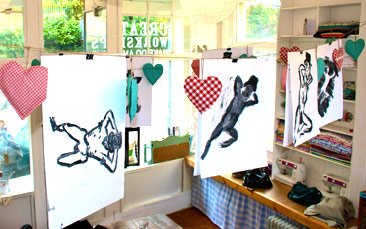 Life drawing
"Hen Party Life Drawing?! Isn't that just a rude art class?" we hear you say. Well, technically you wouldn't be wrong but combined with our qualified artists, professional, hunky male models and a slightly naughty but tasteful session, this activity is definitely one to put on the wish list. As long as you all have a good sense of humour and a willingness to have a go at drawing, then this will be the perfect activity for you. During the session you will receive plenty of encouragement and helpful hints and tips on how to perfect your drawing abilities from a qualified artist/art tutor.

There will no doubt be more than a little cheeky banter but our models are used to that and it's all part of the fun. In fact we wouldn't expect anything less. But away from the giggles those that do have artistic flair will learn some top tips and receive expert instruction from the tutor.

You can even add a little competitive element by awarding your own prize the best sketch, you could even get your handsome model to act as judge.

You and the girls will learn the secrets of life drawing and practice your new found skills by sketching your very own professional nude male model. This session is a great way to spend the afternoon together, trying something a little unusual, and giving you plenty to talk about when you head out in the evening.

Fun, cheeky and definitely pleasing on the eye hen party life drawing is perfect for groups of all ages and will certainly have all the girls smiling.
Where available...
Bath, Belfast, Birmingham, Blackpool, Bournemouth, Brighton, Bristol, Cambridge, Cardiff, Cheltenham, Chester, Edinburgh, Essex, Exeter, Glasgow, Harrogate, Leeds, Liverpool, London, Maidstone, Manchester, Newcastle, Newquay, Norwich, Nottingham, Oxford, Portsmouth, Reading, Sheffield, Southampton, Stratford-upon-avon, Swansea, Torquay, Woolacombe, York
Barcelona, Paris
*Price varies by location.
watch it in action
Any Questions? We'd absolutely love to help!
Call our team on 01225 474200 or send an enquiry today!
You may also like...
Please note: Information on this page reflects the general standard of the activity on offer, but specifics may differ depending on location and availability.