What's Included
A selection of Scottish games to take part in
Competitive hen hilarity
Muddy, down and dirty fun
What you'll be doing
Arrive and get briefed on the safety and how to use the equipment.
Get the day's game outlined to you and ready yourselves for battle!
Get down and dirty with your hen girlfriends and compete for Highland victory.
You'll want to change after this muddy, highly physical day.
We'd suggest heading out for a wee dram of the stiff stuff to loosen up the hens ahead of a huge night out on the town.
VIP group area
individual payments
400,000+
clients who've booked with us
ABTA bonded
don't book without it!
Key Details
Duration
Half day session.
Group Size
Minimum of 8 hens.
Availability
7 days a week.
Equipment
Everything you need is provided.
Seasonal
All year round.
Dress Code
Wear comfortable clothes as the event can get quite physical.
"...The activities we chose were such fun. I would love the chance to try other packages and would definitely recommend GoHen to others..."
Sonya Longley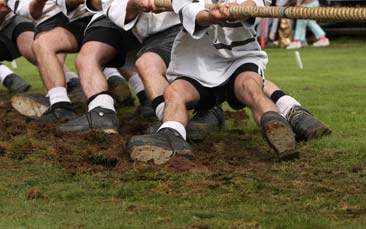 Highland games
There's arguably nothing more fun to do on your hen afternoon than tossing wellies and battling the girls in a tug of war! Bring on the Highland Games activity, our homage to this world famous Scottish sporting tradition, where you and the girls can get involved in a number of fantastic challenges including tossing the caber, hurling the wellies and the Farmer Dash! There's a great range of fun, physical challenges on offer which are all based around the legendary games. You and the girls will have the chance to indulge in some friendly hen competition whilst embarking on this hilarious, muddy adventure!

The nearly wed won't be worrying about the wedding invites or the seating arrangements when she's knee deep in mud and having their time of her life with her favourite hen girlfriends!

Whether you stick to tradition and get involved in Edinburgh or Glasgow or work on your Tyre Flipping in coastal Blackpool, you're guaranteed a great afternoon that all the girls will love, plus, our team of skilled instructors will be there to talk you through it from start to finish and give a brief background to every element of the day. So, what are you waiting for? Let the games begin...

We'd suggest ending the session by heading to a bar for a wee dram of whisky to wash away any aches and calm down the competitive hens!
Where available...
Any Questions? We'd absolutely love to help!
Call our team on 01225 474200 or send an enquiry today!
You May Also Like...
Please note: Information on this page reflects the general standard of the activity on offer, but specifics may differ depending on location and availability.