Who wants to be 'ordinary?' It's a special day and you want it to have your personality and taste. But where to find the extraordinary? The exemplary? The magic touches everyone will be talking about?
GoHen have found 50 of the UK's leading bridal innovators who like to do things a little differently. Brew a cuppa, fetch a slice of cake and prepare to be blown away.
Wedding mood boards at the ready? Let's begin…
Nationwide
Babb Photo – Photography
If your dream wedding photographer would be happy to melt into the background, capturing all your beautiful non-traditional wedding fun without trying to stage anybody for awkward posed photos, then Laura Babb is your girl. Her camera work is colourful, rich with emotion and outside the box. Laura's weddings really do rock and each shot is a window back into the big day.
Website | Facebook | Twitter | Instagram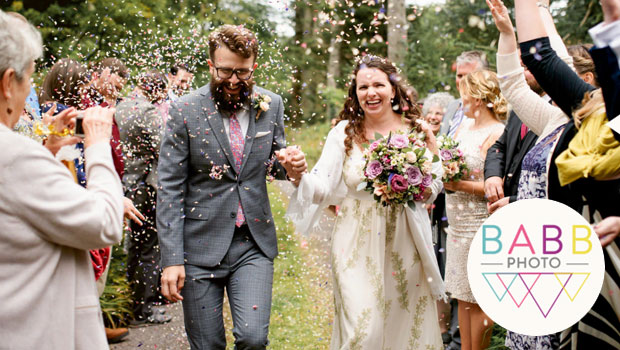 ---
Rock the Frock – Bridalwear
Saying "yes to the dress" isn't always so easy for brides looking for something unique for them. That's why we think Rock the Frock are so ruddy brilliant. They've got a massive range of quirky, alternative and downright fabulous designs to find that perfect outfit and the greatest dress you're ever going to wear!
Facebook | Twitter | Pinterest | Instagram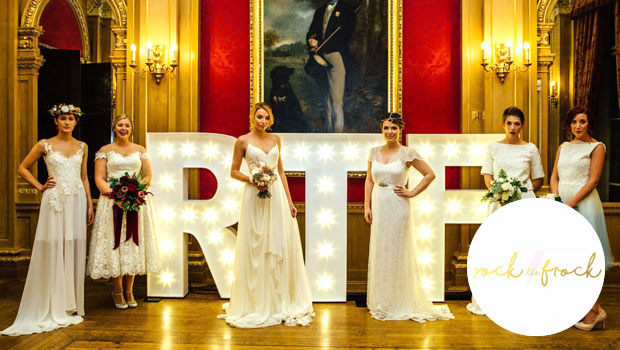 ---
Wedding Yurts – Wedding Yurts
The aches and pains of planning a rustic wedding just became a whole lot easier with Wedding Yurts. This amazing company bring their gorgeous, wedding photo friendly chestnut yurts wherever you need them to be. It's so refreshing to see a company so devoted to giving their brides and grooms exactly what they want for their big day, all while adding an alternative boho luxe feel that is just to die for.
Website | Facebook | Twitter | Pinterest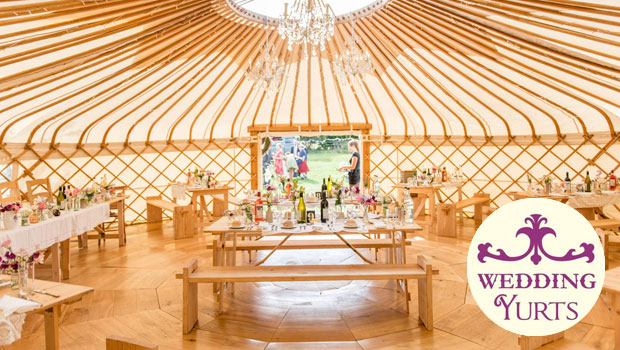 ---
Bubblegum Balloons – Wedding Decoration
If you're anything like us then you love balloons. You're never too old for balloons! So, if you're anything like us, you'll swoon at the sight of Bubblegum Balloons' stunning installations and creations. These are perfectly placed, meticulously arranged and carefully colour-matched alternative displays that your guests will love, whether your balloons are heart-shaped, filled with confetti or adorned with glittering streamers.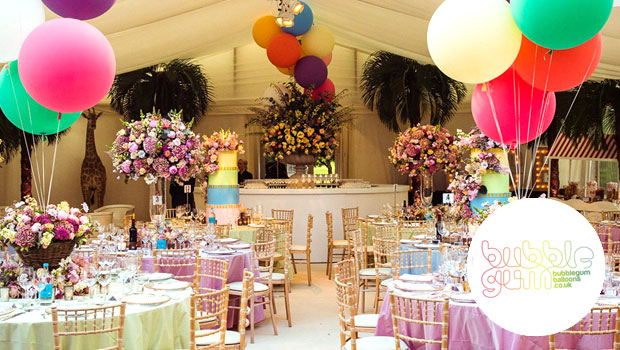 ---
Lucy Can't Dance – Bridalwear
We believe that you shouldn't have to settle for an 'ordinary' wedding dress just because you can't find that one gown you've been visualising mentally since he finally popped the question. Lucy Can't Dance clearly believe the same thing, as the dresses they create in their tropical themed studio steer away from the mainstream and into the realms of endless possibilities. Sequins? Sparkles? Dyed trails? It's all here, and it's all uh-mazing.
Website | Facebook | Twitter | Pinterest | Instagram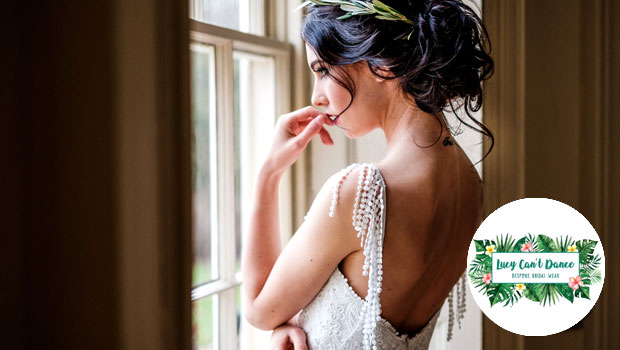 ---
Ladybird Flowers – Wedding Flowers
Having left a career in the finance industry to embrace her passion for floristry, Ladybird Flowers' leading lady Em is all kinds of creative and weaves some truly alternative arrangements for brides who aren't satisfied by the floristry-by-numbers approach of other flower artists. Her bouquets and bunches are always fresh, fragrant and positively blooming with personality. If you didn't expect your flowers to be a talking point amongst your guests before, then that's all about to change.
Facebook | Twitter | Instagram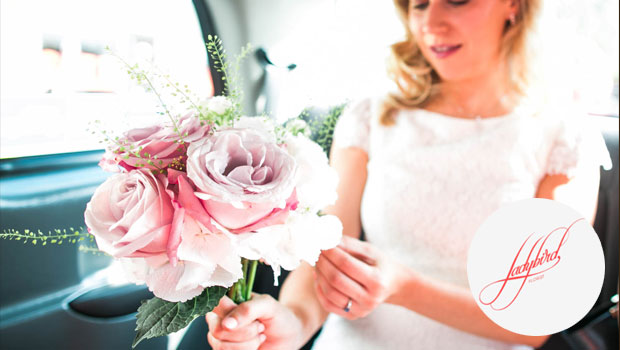 ---
Assassynation – Wedding Photography
Let's face it, we've all been to weddings where all the photos are incredibly staged and in the end, you're left with not so much a snapshot of the day, but a sterile album that could be full of stock images for all you know. Sassy knows this all too well and bucks the trend by going all the way to the other end of the spectrum, and you know what? Her stunning imagery is full of life, love, emotion and tells the story of the happiest day of your life as it happened. Because your big day is exactly that, yours.
Website | Facebook | Instagram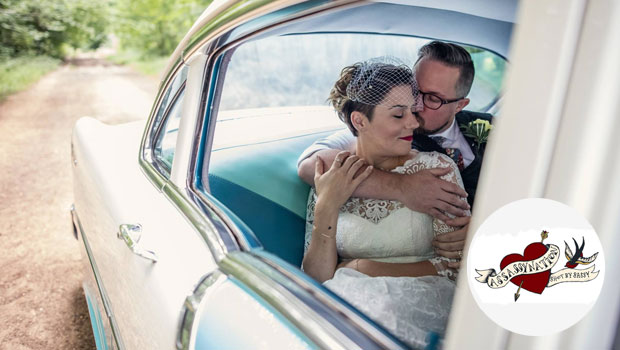 ---
L.O.M Fashion – Evening Wear
Okay, so you've sorted out your boho chic wedding dress, your hair is all kinds of gorgeous and your make-up is on point. All that's left for your dream festival themed day is a cool little number to party into the night, and that is where you should give L.O.M Fashion a call. This funky boutique creates some totally unique garms that range from tie-dye playsuits with added pom-poms to uber cool sequin kimonos to let everybody know that you are indeed the #kween of the wedding fest.
Website | Facebook | Twitter | Pinterest | Instagram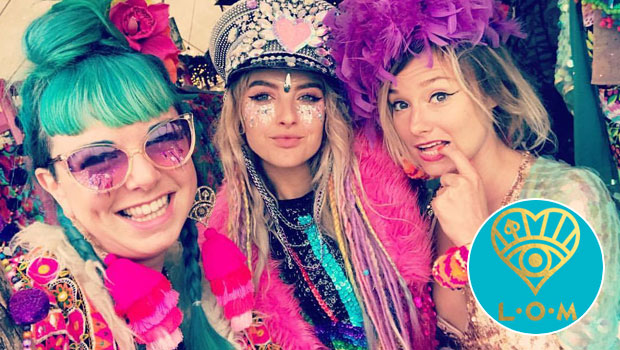 ---
Nevie-Pie Cakes – Wedding Cakes
Natasha Collins, the sugar fingered artist behind Nevie-Pie Cakes, believes that every bake should be a showstopper. And we don't need to check with Paul Hollywood to confirm that she is absolutely right, her cakes are out-of-this-world amazing and a far cry from your plain white tiers. Her inventive creations use dynamic colours, shapes and intricate detailing to make a flagrant display that's totally unique to you.
Website | Facebook | Twitter | Pinterest | Instagram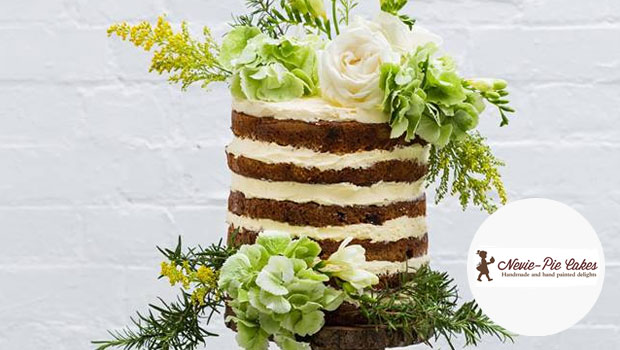 ---
Bottle Bazaar – Personalised Bottles
Traditionally the bride would give her bridesmaids trinkets as a "thankyou" for helping her to keep her inner bridezilla under wraps during the planning process. But you aren't traditional, and nor are they, so head over to Bottle Bazaar and treat them to their own personalised bottle of bubbly on the morning of your nuptials. It's a personal touch that makes a really well thought out gift.
Website | Facebook | Twitter | Pinterest | Instagram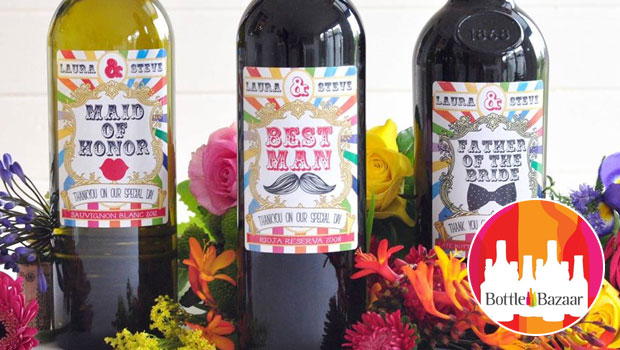 ---
Curious Fair – Wedding Accessories
Yeah, Gran might be angling for you to wear her 1930s, tiara but it's 2017, you're your own woman and it's time to show it. Enter Curious Fair. This stunning accessory designer creates wild feather headdresses and bridal veils, luxury animal masks and gorgeous goose feather crowns that will make you feel like the boho princess you always knew you could be. Sorry Gran, this is just too darn breath taking to miss out on.
Website | Facebook | Twitter | Pinterest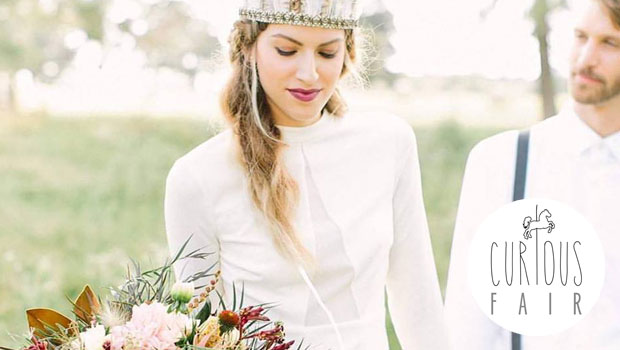 ---
The Bournville Waffle Company – Wedding Catering
So, the traditional "getting everybody to sit awkwardly with people they've never met before" thing isn't going to work for your wedding. Why try to make round pegs fit square holes? Instead, invite The Bournville Waffle Company to your special day and watch as your guests lick their lips and mingle with joy. These Belgian waffles are the stuff of foodie daydreams and will most certainly see your nearest and dearest asking for seconds.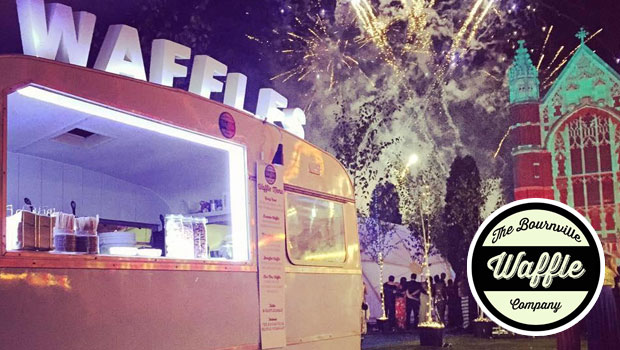 ---
Knots & Kisses – Wedding Stationery
If your wedding is going to be a little out of the ordinary (and if you're reading this then we're assuming it will be) then you can give your guests a few hints as to what they can expect with Knots & Kisses' fabulous wedding stationery. Nikki Sherriff's wonderful designs are beautifully unique, so you can be sure to find something that suits you and your soon-to-be betrothed down the ground.
Website | Twitter | Pinterest | Instagram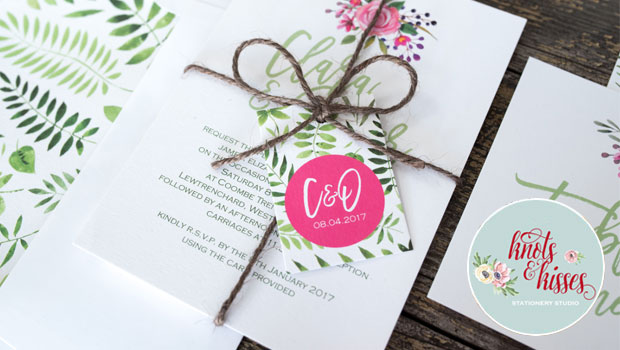 ---
Rosa Bloom – Evening Wear
Festival weddings are our absolute #goals at the moment here at GoHen and if you're lucky enough to be planning your own, then you should definitely peruse Rosa Bloom's heart stopping collection of hand stitched sequin dresses, playsuits and party tops. Your wedding dress is for the day, in the evening, it's time to celebrate and no "tradition" should stop you from becoming a glitter wearing sparkle fairy at your own wedding do.
Website | Facebook | Instagram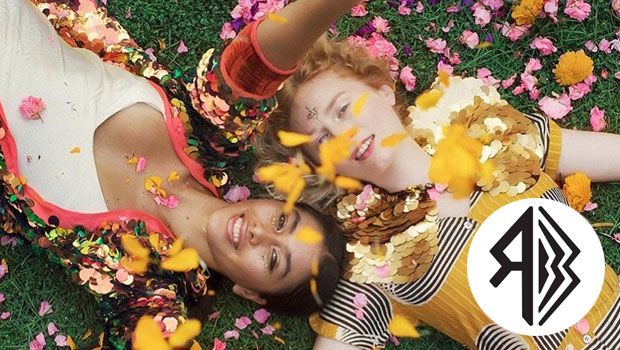 ---
Doris Loves – Temporary Tattoo Station
Imagine your Grandad, getting a sleeve tattoo done at your wedding, the look on Gran's face when she finds out, and the laughs when she finds out it's all temporary and goes to get a cheeky lipstick mark on her shoulder. That's what's so perfect about Doris Loves' temporary tattoo station. It brings out the best in everybody in ways other wedding entertainment just couldn't, and it could also create some totally funky pics for the photo album afterwards! Win/win.
Website | Facebook | Twitter | Instagram | Pinterest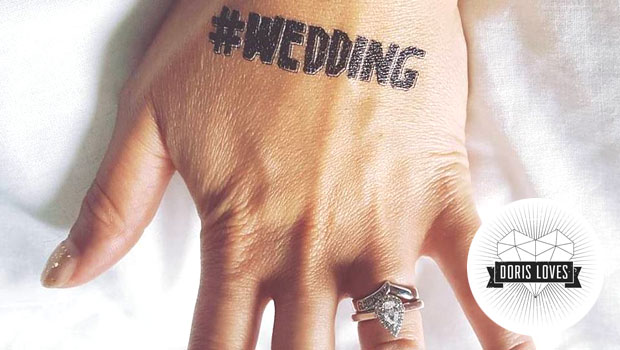 ---
Buy Our Honeymoon – Wedding Gift List
It's time to come out with the truth. You don't need a Waitrose gift card, you don't need a new toaster and you REALLY don't need a food processor for dinner parties (Mary Berry you are not). What you do need is a good break with your new husband, and that's what makes Buy Our Honeymoon such a great idea. It's essentially crowdfunding for your honeymoon, and it's a brilliant way to make sure that if people do choose to get you a gift (people are lovely, aren't they?) that it's something both useful and meaningful.
Website | Facebook | Twitter | Pinterest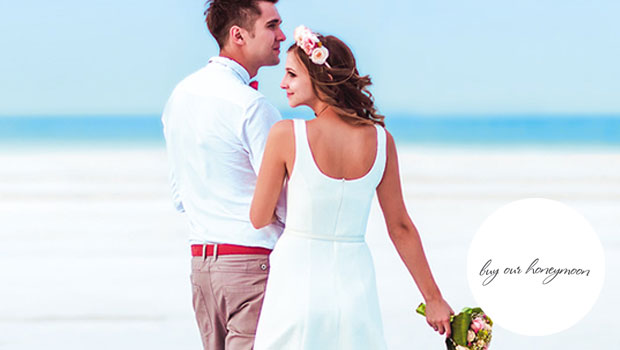 ---
The Folly Boutique – Wedding Jewellery
Add a chic, alternative finishing touch to your boho wedding dress with one of The Folly Boutique's beautiful adornments. From quirky necklaces to vintage inspired pearl rings, there's a wide range of trinkets that really will add the "ooh" to your "ahh" and most importantly, remain a constant reminder of your special day long after your "I do's" have been said. The Orly Genger necklaces have got our pulses racing in particular *heart eyes emoji*.
Facebook | Twitter | Pinterest | Instagram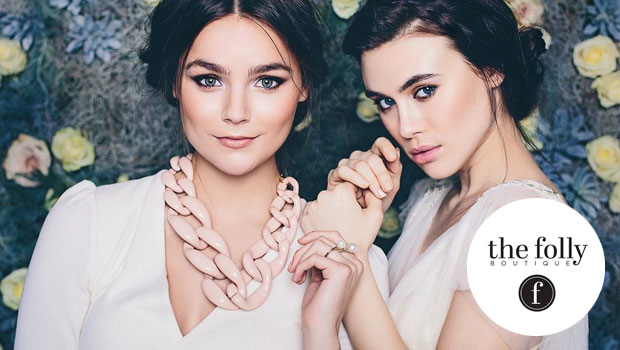 ---
Paperless Wedding UK – Digital Wedding Stationary
Think of the trees! Do your planet a favour, go green with your wedding, go paperless. It's not a nice thought, but it's possibly true that after the initial "N'aaaaw", your poor paper wedding invite will likely just become fridge door dressing until the big day, so instead, design something that your guests will really cherish and save postage costs while you're at it. Simples.
Website | Facebook | Twitter | Pinterest