Finally. The hen do is here!
It's time to escape reality and let the party vibes take over.
But there's one thing standing between you and that much-needed weekend away…
Packing.
Yes, we know, we know – packing is evil in its purest form.
That's why we've put together the Ultimate Hen Do Packing List to ensure you can take all the pain out of the packing process.
No, no, don't thank us, it's what we do.
What Should I Pack for a Hen Do?
When it comes to packing for a hen weekend, there are a few things you should keep in mind…
Your Activities
Think about the hen party activities you'll be doing over the weekend and pack accordingly!
If you're going on a spa day, you'll need to remember your swimsuit.
If you're doing something more adventurous, like quad biking, you may need to consider taking a spare change of clothes!
Your Themes
Don't forget to take some fun hen party accessories depending on the theme of your weekend plans…
Your Destination
A UK-based hen do can often result in packing for sun, rain, tornados and snowstorms. So, it's always a good idea to pack a small umbrella and some extra layers.
The weather in a lot of our international destinations can be a little easier to predict, so you could probably get away with leaving behind your extra layers and adding in a few more hen party swimsuits!
The Essential Hen Do Packing List
To make sure you don't forget anything, we've created a checklist for you to tick off as you pack!
We've broken down your essential items into the following categories:
Basics: These are the standard items you need. Yes, your hen do games come under this category, because what's a hen do without some big party games?
Clothing: Remember to pack clothes that are both comfortable and stylish! Think about the destination you're visiting, the activities you're doing, and any themes for your party that may affect your outfit choices.
Toiletries: Don't forget to check with your hen party accommodation to see what is already provided – you might not need everything on this list, so we'd recommend asking before packing.
Essentials: You won't get very far without these, especially if you're going abroad!
Electronics: Your phone, charger, and camera are must-haves for capturing all the fun moments.
Accessories: Add some personality to your outfits with your hen party accessories.
Shoes: Bring comfortable shoes for both walking and dancing!! It is a hen party, after all!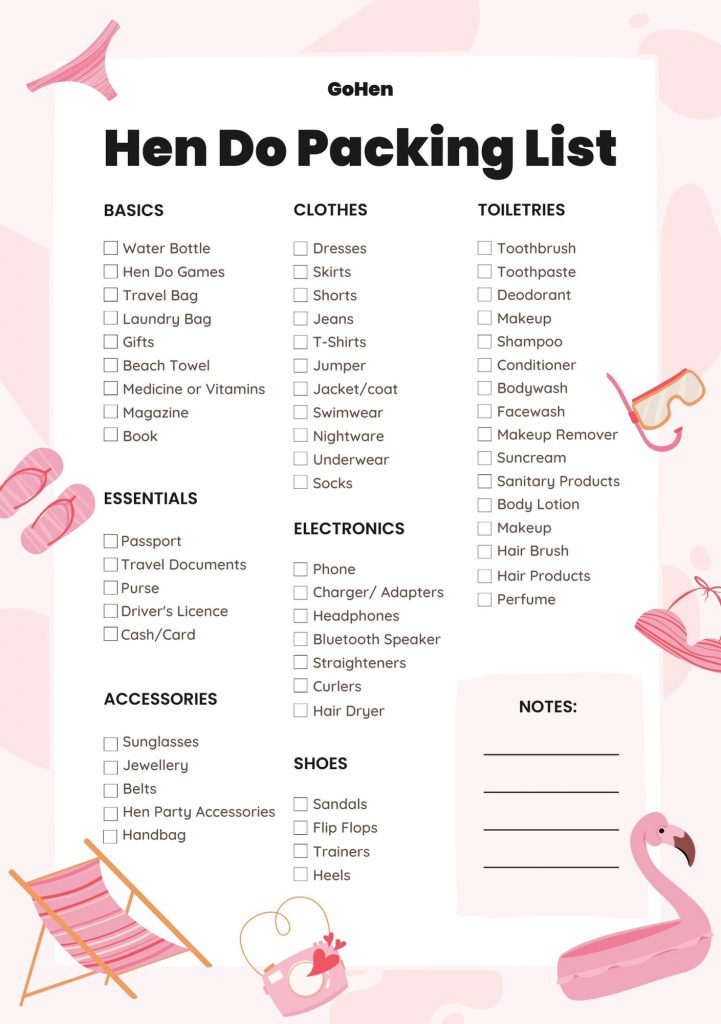 Packing for a hen do can be a daunting task.
But with our handy packing list and helpful tips, you'll be well-prepared for a fun and stress-free weekend.
Happy packing!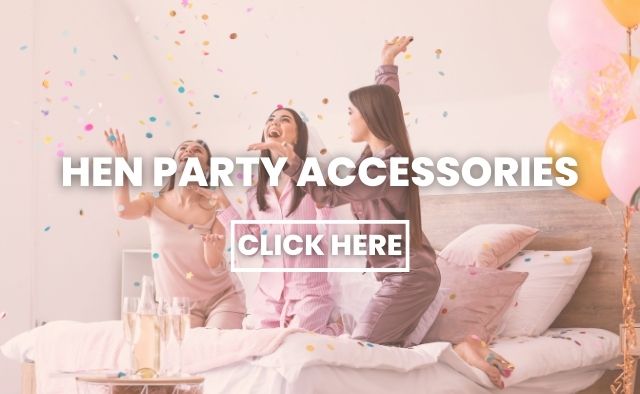 Who are GoHen?
GoHen are the UK's go-to hen party planners, having sent over 600,000 people off on their big pre-wedding weekends since 2002.
If you still need a hand organising the hen, get in touch on 01225 474200 or head to our homepage now for the latest trends and inspo.