The North
The Frostery


It's only been 6 years in the wedding industry for Suzanne Thorp and yet, working out of her cake studio in the Saddleworth Hills, she produces some of the most awe-inspiring wedding cakes that we've ever clapped eyes on. Always intricately detailed, her cakes are completely bespoke to the bride and groom, and yet whether she's designing a modern bake with flecks of gold, a luxurious traditional cake or a succinct geometric-style creation, it's always done to perfection. One to watch for sure.
Website | Twitter | Pinterest | Instagram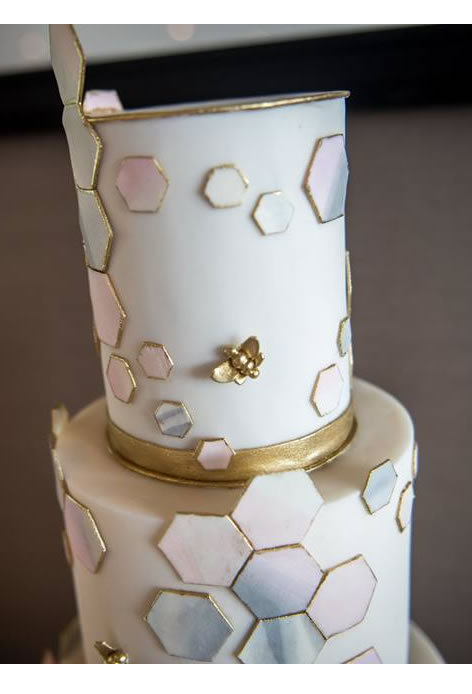 ---
Bloomsbury Wedding


Bloomsbury Wedding Cakes astound even the most experienced cake-critics here at GoHen. Marise's beautiful creations simply defy the normal rules of wedding cakes. Tiers frosted with macaroons, or decorated with sugar modelled fruits, with frosted ruffles that simply look too good to be true but just are. She's a baking genius and loves getting to know the happy couple so she can design their dream bake.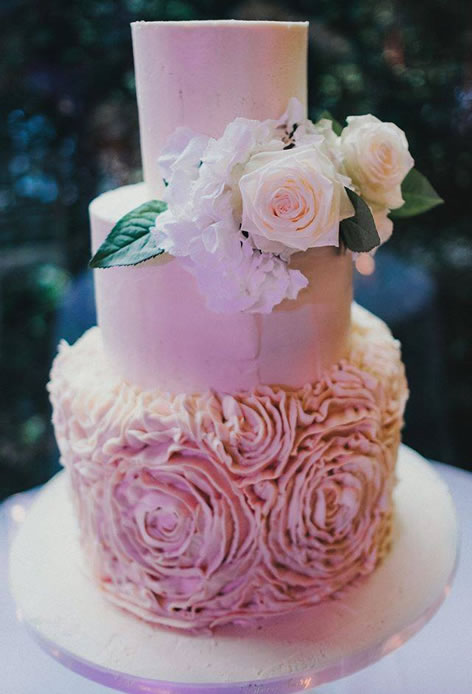 ---
The Designer Cake Company


The Designer Cake Company is true love in cake form. Isabelle Bambridge's crisp, clean bakes are perfectly proportioned and elegantly decorated. You'd be forgiven for thinking Isabelle has been baking forever, when in fact, she was actually once a professional dancer with The Royal Ballet before pursuing a career in fashion design. Luckily for us, she settled on cake design and we all get to pin these creations to our Pinterest boards.
Facebook | Twitter | Instagram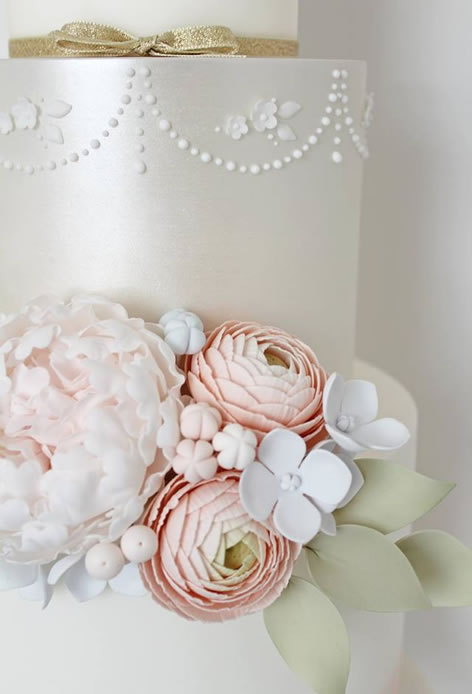 ---
Torte Cakes


A multiple award-winning wedding cake designer, Beth is extremely talented and it really shows in each and every slice. Although her path to this list is slightly different to others as she began her career with a PhD in Materials Science, although these days she can be found pairing frosting with her perfect tiers rather than acids and alkalines in some stuffy lab. We don't know if there's a formula for the dream wedding cake, but if there is, Beth has got it.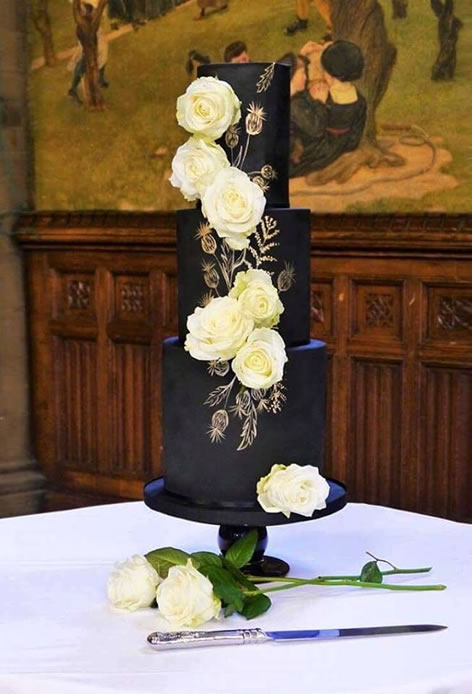 ---
Hilary's Cakes & Bakes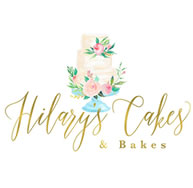 Formerly a student of Cotton & Crumb's Tracy James, Hilary Hurst struck out on her own in 2013 and hasn't looked back since, supplying her beautiful cakes to some of the UK's best wedding venues. Her designs are always oh-so-photogenic with crisp frosting, elaborate sugar flowers, decorative ribbon and in one instance a flock of sugar-modelled butterflies taking flight from the bottom tier. Bring your sweet tooth!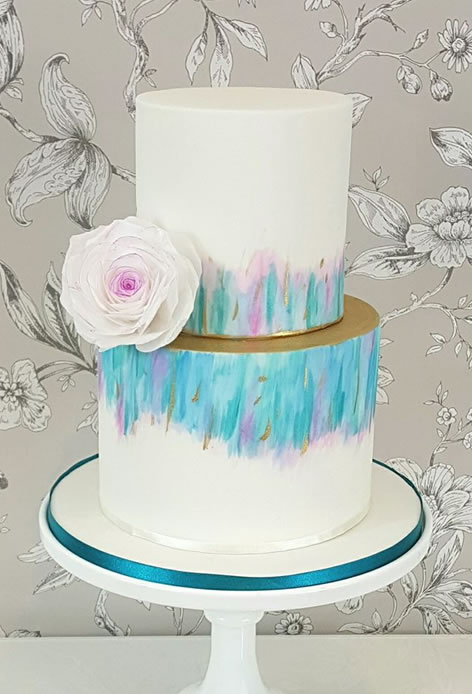 ---
Sugar Ruffles


Charlotte Tyson has been an annual mainstay on this list since it first began for one good reason. Her cakes never fail to make us wobble with 'cake-lust' (if that wasn't a thing it is now), with inventive and sometimes innovative designs that you'll be adding to your wedding scrapbooks in a hurry. Of course, the real highlight here has to be Charlotte's titular sugar ruffles and they are mesmerizingly beautiful, you'll almost feel bad for cutting into them… Almost.
Facebook | Twitter | Pinterest | Instagram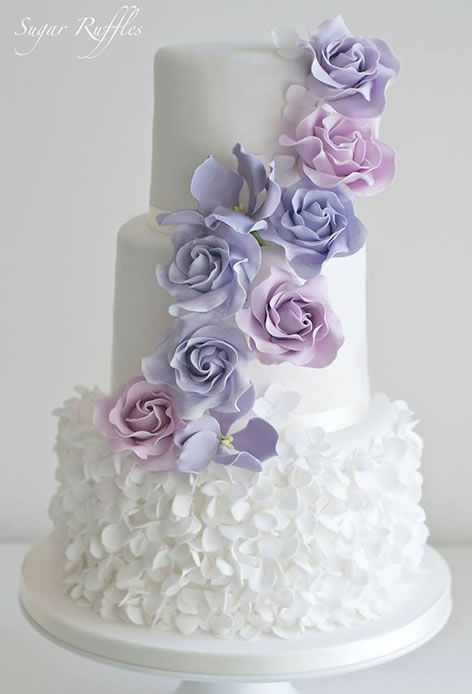 ---
The Walkden Cake Company


Such was the demand for their delicious cakes, the double act of Kellie and Jènelle opened The Walkden Cake Company store because their homes were being overrun by sponge (although that does sound like a dream scenario). Their trendy bakes are just as popular in 2017 and having enjoyed just a glance at their cake-folio, it's not hard to see why. Something tells us that these girls will still have quite a lot of cake to contend with going forwards.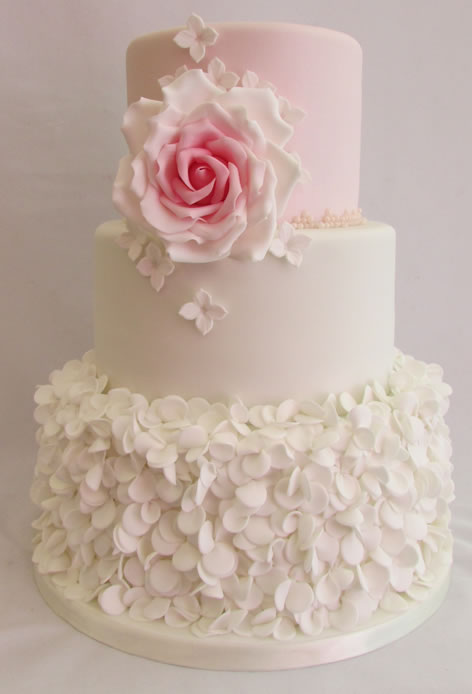 ---
Pink Frosting Cake Company


Kelly-Dee Towriess is becoming a familiar name on our annual best cake designers and, once again, 2017 has been an impressive calendar year for the Pink Frosting Cake Company. Sugar flowers burst between pristine white tiers of sponge in full bloom, while a wreath of real flowers adds a cute, slightly rustic finishing touch that you'll be marvelling at long after the last crumbs have been eaten.