East Anglia
Cookie Delicious
If you really want proof that wedding cakes are now amazing (and wonderfully edible) works of art, then the multi-award-winning team at Cookie Delicious are a gallery of wedding wonders. Whether you're looking for elegant towers, bespoke designs or incredible cookies (the clue's in the name), using the finest local suppliers, their friendly team never fail to deliver.
---
Bakezillas
Not just cakes… Cake tables! Yes, entire tables of cakes. It's your big day, of course, you want to give your guests a little wow factor and Bakezilla's fabulous team will work with you to create a bespoke wedding package. Because, just like slices of cake, when it comes to wedding packages, one size doesn't fit all, hence the first-class service and jaw-dropping creations.
Website | Facebook | Instagram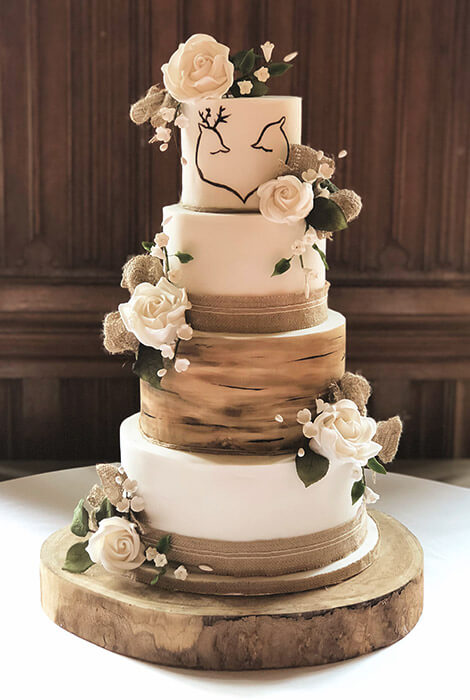 ---
Angie Harris Cakes
We continue to be huge fans of the wild and possibly whacky, Angie Harris. Constantly pushing boundaries and creating amazing designs to raise a smile or stop people in their tracks. It's sometimes very easy to forget these are even cakes, the artistry is just so perfect. Widely regarded as the UK's most creative designer.
Website | Facebook | Instagram
---
Bunty's
Creative director Joanna McGuire named her business in honour of her grandmother and has grown to build a wonderful reputation within the industry, which is just as well because all grandmothers are experts on weddings and cakes. Bringing these two things together has won Joanna a number of awards and an army of happy brides.
---
BuBakes
At BuBakes it's not just a piece of cake – it's a masterpiece of cake!" It's this credo and desire to deliver the very best that has elevated Bu (aka Liz) to this year's Top 50. No two weddings are the same and with BuBakes no two wedding cakes are the same. A runner up in this year's Wedding Awards, Liz also makes a donation to Mind for every order received.
---
The Perfect Pudding Company
The wonderfully named 'Pudding Company' was founded by mother and daughter team Kim and Laura. Having been highly regarded among the best wedding cake makers in Essex, they are now among the best wedding cake designers in the UK. Fantastic towers, charming cupcakes collections, lollipops, flower work, there is just so much to admire and delight.
---